Welcome! I don't really have much to say today, but here's the man of the hour.
#62 (but not actually), Keenan McCaddy, Freshman, S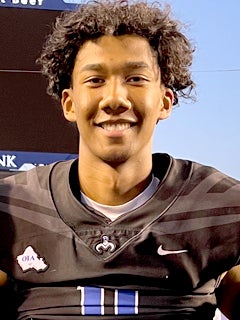 Stats
Height: 6'3
Weight: 180
High School: Moanalua HS, Honolulu, HI
How'd he get to The Blue™?
McCaddy was a 3-star athlete hailing from The Island. Most recruiting sites had him listed as a WR, but the Broncos have other plans. McCaddy received his Bronco offer after visiting the Bronco camp last June, and the choice was quick. Keenan spurned an offer from the United States Naval Academy, and while I support the troops, I cannot support the triple option, so the choice was good.
Nickname
"The Caddie"
Like a good caddie, Keenan delivers what you need when you need it most. (Usually a good club)
Look-alike
Actor Mahershala Ali.
Career Highlights
McCaddy was a 3 star athlete according to 24/7 sports, and was a Polynesian bowl invitee following his senior season of football.
2022 Prospectus
Keenan just enrolled and there's a deep class of DBs currently. He will surely make his debut through scout team and special teams, but we'll see him soon enough.
Is he on Twitter?
He is, and it's conveniently named @keenanmccaddy
Completely made up fact
Keenan always purposefully misspells his name to protect his identity. This is why his Twitter bio says he lives in Salt Lake, Hawaii, as opposed to his true hometown of Honolulu, Utah.