We're at the point of the countdown where it feels like we're getting farther away despite the calendar saying otherwise. To those who need a reminder, Bronco football is less than 10 weeks away. That's left than one football season, and we know how fast those go.
#69, Garrett Curran, Redshirt Senior, OL
Stats
Height: 6'5"
Weight: 305
High School: Granite Hills HS, El Cajon, CA
How'd he get to The Blue™?
Continuing our longstanding tradition of farming talent out of San Diego, the Broncos recruited the 3 star lineman who had offers from Washington State, Arizona, and multiple MW schools. He chose the best team out of the bunch, and we're glad he did.
In HS he was 2nd Team all San Diego as a Junior and First team a Senior. He played baseball, wrestled, and won football games. Good dude.
Nickname
"Chef" or "Chef Curran"
There is a food dish/ Hall of Fame NBA player that comes to mind when I hear Curran, and Garrett certainly takes a lot of shots from the field so our other guys don't have to.
Look-alike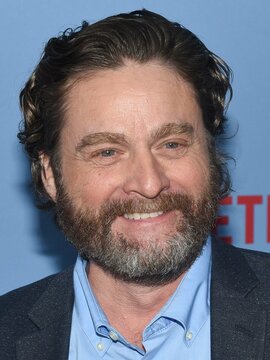 Actor/Human being? Zach Galifianakis
Career Highlights
Garrett snagged an honorable mention all-Mountain West in 2020, and has some preseason all conference selections heading his way as well.
2022 Prospectus
He's started since 2020, and there's no reason to believe that will change for the redshirt Senior. He suffered some injuries last year that took him out of three games, but will be back in the starting lineup. Despite all the frustrations about the offensive line, Garrett has been a solid contributor, and with health will be an anchor on the front lines.
Is he on Twitter?
He is, @GarrettCurran55, although no tweets yet this calendar year.
Completely made up fact
Google scholars (me) have uncovered that Curran means "descendant of the Spearman" in Irish origin, while this is not entirely true, he is not "a descendant". Garrett Curran is "The spearman". No further clarification will be given at this time.