We at OBNUG hope your Father's Day is filled with whatever your Father's day is filled with usually, or maybe better! We don't have much control over it honestly. Our present is the knowledge that Bronco football is 76 days away, the knowledge of another player, Mr. Roger Carreon, plus whatever targeted ads you get in between the paragraphs.
#76 (probably), Roger Carreon, Freshman, OL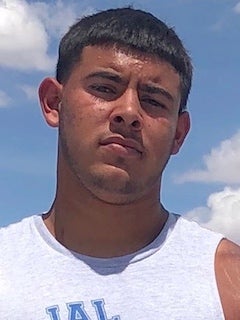 Stats
Height: 6'5"
Weight: 295
High School: Jal HS, Jal, NM
How'd he get to The Blue™?
Roger was a 3 star prospect coming out of New Mexico, and the number one player out of the state for the class of 2021. He held multiple FBS offers, from the likes of New Mexico, Air Force, and Oregon State. Roger was 2A-All State in New Mexico, and even extended his skills to the basketball court, as well as the shot put and discus.
Despite the many teams aware of his talents, he told the Albuquerque Journal that once offered, Boise was his top choice. He didn't waver from that and committed following his official visit.
Nickname
"Renaissance Rogelio"
When a name like Roger is short for Rogelio, you know he's a man of culture.
Look-alike
It's days like these that I'm grateful that our AI look-a-like machine is never wrong. Get Nick Jonas throwing the shot put and we'll if he can pick up a blitzing linebacker.
Career Highlights
Not only 2A all-state, Roger made the Max Preps Small-Town All-America team.
2022 Prospectus
Roger recently graduated and has joined the team this summer. He will likely redshirt, but will provide needed depth on the offensive line. The potential here is huge, and he could make his mark quickly in the next couple seasons.
Is he on Twitter?
He is, @Roger_52_ and he's cleaning up the accolades over in the New Mexico.
Completely made up fact
Roger claims he makes the world's greatest french toast. While scientists have debated for millennia on the optimal french toast making process, Mr. Carreon believes he has the secret ingredient: Tabasco hot sauce.