We're under 80 days until kickoff, folks...a true milestone. With just 79 days left until UCF, today we'll look at a new addition to the Bronco family who hasn't technically been assigned a number yet (and probably won't be assigned this one, but whaddya gonna do)—Eric McAlister
#79, Eric McAlister, True Freshman, WR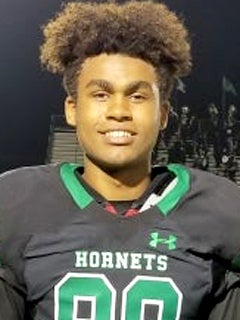 (photo: Jeremy Clark, 247sports)
Stats
Height: 6'4"
Weight: 190 lbs.
High School: Azle High School, Azle, TX
How'd he get to The BlueTM?
The lanky WR was a priority signing by the Broncos and you can thank now-departed (to Auburn not the afterlife) Eric Kiesau for him landing on The Blue™. A consensus "high 3-star" recruit, McAlister was also rated as a top-100 recruit at his position nationally by 247Sports and one of the top 100 recruits in TX regardless of position by the same outlet. As a senior at Azle, McAlister hauled in 70 receptions for nearly 1,500 yards and 20(!) TDs. As a junior, his stats were just as impressive, with 62 grabs for 1,449 yards and 23 TDs en route to a district title. For his efforts, he was voted first-team all-district and Class 5A AP first-team all-state. Also a track and field athlete, McAlister ran a PR of 22.71 in the 200 in the spring of 2021. The Broncos fended off offers from the service academies, Lamar, Nebraska, San Diego State, Texas State, Utah, Virginia Tech, Wisconsin, and Wyoming.
Normally for the new guys we'll post their Hudl highlights so you can get a look at them, and I'll do that below, but it's also valuable to see what TX evaluator Gabe Brooks said about McAlister's game:
Big-framed outside receiver with terrific height and frame potential. Long and lean with a big catch radius. High-points well and should continue to hone red-zone acumen. Bursts off the line, especially for a big receiver. Gets on top of DB's quickly to force them to chase in the vertical game. Good ball-tracking skills and awareness. Great production with huge yards per catch average as a junior. Will need to fill out frame to maximize strength. Not often pressed and will need more bulk to combat that in college. Can show more laterally fluidity to enhance route crispness. Power Five-caliber receiver prospect who could become a reliable multi-year starter in college.
Nickname
"Moss"
You saw the video.
Look-alike
The hair is close...but the game is closer—John Hightower.
Career highlights
Had FIVE touchdown grabs against Crowley his senior season (2020) at Azle. Voted 2nd Team all-state as a senior. Voted first-team all-district as a junior at Azle. Voted first-team 5A all-state.
2021 Prospectus
It wasn't just by sheer luck that I ended up with McAlister's countdown, because this is the offensive recruit I'm most excited about in the 2021 recruiting class (and perhaps you should be too). I mean, you saw the kid's highlight film, right? As they say...if that didn't light your fire, your wood's wet. McAlister has the size, athleticism, and speed that can be rare in these parts...and something the Broncos haven't really seen since John Hightower's departure. The difference...McAlister is already bigger than Hightower AND we landed him directly out of high school whereas JH was a serious diamond in the JuCo rough. I know we've already spoken at length about the depth of the WR room going into the 2021 season and how most of the newbies are probably going to have to wait their turn, but if there is going to be a true frosh with some playing time in 2021, this is the guy. He bullies DBs at the line of scrimmage, fights through arm tackles like he's swatting flies, and shows an impressive burst in the open field. This kid has all the tools you're looking for in a receiver and should create matchup problems on day one. I'm not full-on guaranteeing that we'll see him in action this season, but frankly I'd be very surprised if we didn't—full toolkit receivers aren't exactly a dime a dozen.
Is he on Twitter?
Yep...and we can't wait either.
Completely made up fact
Film study is important in football, but McAlister has also discovered conventional study can be important as well. This offseason, he's been studying quantum mechanics to better understand the game at a subatomic level.