Hope that title was click-baity enough.
Made a summary of the season, thus far: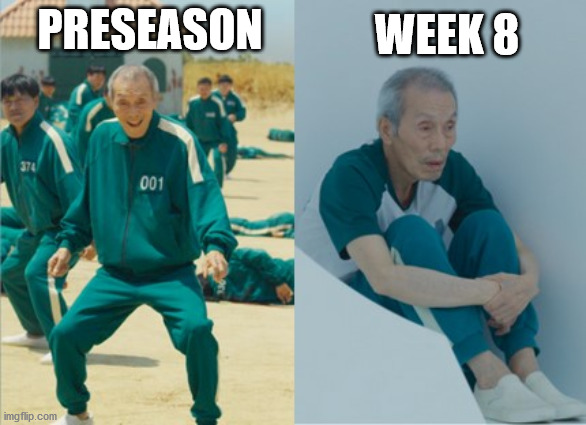 Not much fun, innit? Starting to understand what Detroit Lions fans feel like (hey-o!)
A number of articles/internet comments are pointing out how long it's been since Boise's football team struggled this bad. I won't get into that, but I will highlight a few things.
There are two problems everyone has seemed to identify: struggles in the second half and bad offensive line play. I'll go over those in order.
First, if you believe the offense is worse in the second half, you are correct!
They average just about 12 fewer points in the second half, and nearly 100 yards worse. The amount of turnovers is easily the worst of it. What is interesting is that as bad as the offense is in the second half, the defense does really well:
In three games (Utah State, Oklahoma State, Air Force), the defense didn't allow a single touchdown in the second half, and allowed 6 total second-half points across those three games.
Here are the averages of what the offense does vs what the defense allows:
Boise has outscored their opponents by a total of 206-155. That is a little misleading, because of that 51 point differential, 41 came against UTEP. But it also shows how Boise is competitive despite the losing record. All three wins were by at least nine points, and only the loss to Nevada was greater than seven points (10). And it doesn't help that Boise has yet to play a team with a losing record:
4-3
UTEP
6-1
OKST
6-1
USU
5-2
NEV
5-2
BYU
6-2
AFA
6-2
Total
38-13
What is also interesting is that Boise has lead at halftime in five of their seven games, and held a lead at one point in every game.
Alright, now back to bashing them. So how about that offensive line? There have been a few injuries, but not enough to justify the bad play.
Football Outsiders provides some technical rankings for offensive line play. While they aren't the above-all, end-all rankings for line play, they do provide some good info. Here are their rankings as of 10/18/21:

You can get a full description here for what those mean, but basically a "standard down" is when you have 1st and 10, 2nd and 7, or 3rd/4th and 4, or anything better than those situations. When the down or distance is worse than those situations, it's considered a "passing down"
Based on this, Boise's offensive line is bad at most things. To put this into perspective, there are 127 FBS schools. On pass protection Boise has been average at best at avoiding sacks. But for the running game? Yeah, it's bad, outside of the top 90 on almost every metric. The only area they do well in is short yardage situations (power success rate). But I'm inclined to say that has less to due with the offense line, and more related to Boise's short yardage package, featuring 300 lb Scott Matlock blocking for 240 lb Andrew VanBuren.
Some people have talked about replacing Hank with Sears, but honestly, I fail to see how Sears would fix any of this. Despite the bad o-line play, Hank is third in the conference for just about every major passing stat. The two guys ahead of him are ranked in the top 10 of Yahoo Sport's quarterbacks
Not talked about as much is the defensive line. They were supposed to be much better after having injury issues last season. The injuries aren't as bad this year, but the defensive line has struggled too

In the top 100 for all but one category, woo! Still below average on most situations.
An odd note: on passing downs, they do well against the run (8th nationally), but are bad at getting pressure (97th). Are they mixing up priorities on those? Anyway, they've been alright at getting pressure. Scott Matlock and Isaiah Bagnah, our next great Canadian defensive linemen, have 11 total sacks.
Now, onto the next topic, a surprise! Many of you have read an article recently written by Chase Glorfield, explaining his opinion on what's going on. If you haven't read it, it is pretty interesting. Feel free to read it, but he puts most of the blame on Bryan Harsin not leaving Avalos with a solid team. Some of it I can't confirm or don't have an opinion on (like the coaching staff not getting along), but it did make me curious about Harsin's recruiting history.
Harsin had a track record of good recruiting classes, but (unpopular opinion time) I'm starting to question that, and I'll explain why. I looked at Harsin's recruiting classes from 2015-2020 (excluded the 2014 and 2021 year, because the coaching changes make it hard to decide who to give credit to). I used ranking stats from 247 sports, and if a player was unranked they were given a score of 0.70 (the lowest the site reports). First, I wanted to see how many players from each position he recruited (this excludes students who transferred in or walked-on):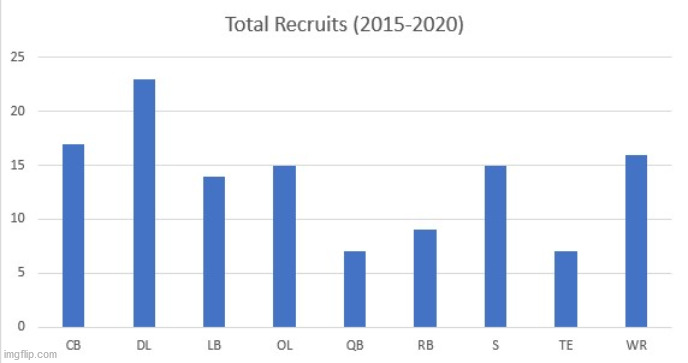 This is the first thing I saw that made me rethink Harsin's recruiting credentials. Sure, he got a number of 4 star recruits, but I question the positions Boise loaded up on. The most committed recruits were defensive linemen, which I agree with. That's the position where depth matters most. But the fact that Harsin went after more corners and wide receivers than offensive linemen is concerning. He even recruited as many safeties as o-linemen. In his last three seasons, Harsin recruited a total of six offensive linemen. Meanwhile, he got nine (9!) wide receivers. Coincidentally, those were the three recruiting cycles Brad Bedell was the offensive line coach, but I'll stop right there.
To me, this makes no sense. You have to have five offensive linemen on the field on every offensive play, no other position requires that many, so shouldn't your recruiting reflect that? Why focus on depth for positions that really only need one or two good players? It's the equivalent of buying a new sound system for your car while the transmission is disintegrating.
The other interesting part is that there were exactly 0 linebacker commits in the two years Avalos was gone. And I don't know of anyone who feels like that's a current position of strength, so....
Now, what about the quality of those recruits?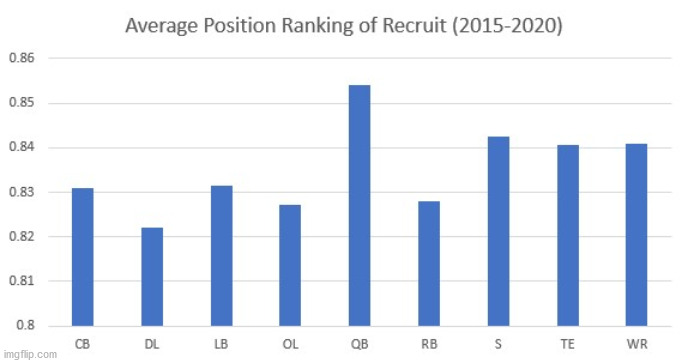 On average, the lowest rated recruits were defensive and offensive linemen. Based on this info, Harsin's recruiting policy with offensive linemen was about neither quantity or quality, and it's showing. Meanwhile, Harsin loaded up on receivers like it was going out of style. Sure, Boise this year has one of their deepest receiving corps in years, but how's that working? (See the crappy offensive stats shown earlier). In fact, during those six years, receivers were the only position with multiple recruits each year. In four of those six years, Harsin recruited as many or more receivers than o-linemen. Again, when do you need more receivers than offensive linemen?!?
Before I go too harsh on Harsin, he was not a bad coach. During his time in Boise, Harsin was top five in win percentage. Bad coaches don't do that. But he didn't exactly give Avalos much to work with.
Conclusion
So not much good going on. For some of this you can point to Boise's injury struggles. The starting running back (Holani) has hardly played, the already struggling offensive line has had to play at least 4 combinations due to injuries, the 4th and 5th string corner have had to play (including the top corner now being out for the year), and the interior defensive line is without three of their top 4 players.
But on the bright side, Boise finally plays a team with a losing record this Saturday in Colorado State (yay?). And based on ESPN's matchup predictor, Boise is expected to win three of their final five games. That puts Boise at a 6-6 record. Oh well. At least our boy Kellen is running an offensive juggernaut in Dallas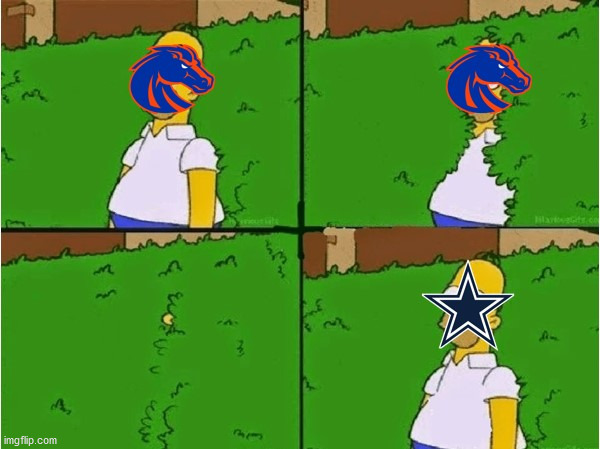 Thoughts? Comments? Concerns? Random Facts?