We are under 30 days to football (sort of) and today we highlight a true warrior for the Broncos. He's a player who has put in the work and proved his mettle on the field since day one. Today we honor #28, Kekaula Kaniho.
#28, Kekaula Kaniho, Senior, N
Stats
Height: 5' 10"
Weight: 185 lbs (+3 lbs)
High School: Kahuku High School, Kahuku, HI
How'd he get to the Blue™?
Coming out of powerhouse Kahuku in Hawaii, Kekaula had his pick of suitors. While chased by Colorado, Vanderbilt, Washington State and Hawaii, Kekaula ultimately picked the Broncos.
Nickname
"Lego"
Can't buck 3 years of tradition!
Look-a-like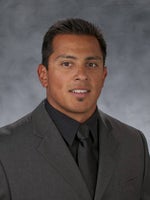 Andy Avalos *sniffle*
Career Highlights
After a stellar 2019 campaign, Kaniho was named to the All-MW First-Team. He accounted for 61 total tackles, 11 tackles for loss, 3 sacks, 1 interception and 7 passes defended. If that's not beast, I don't know what is.
As a Bronco, he's notched 133 total tackles, 20.5 tackles for loss, 5 sacks, 5 interceptions (including one for a touchdown) and 19 passes defended. He will likely go down in the annals as one of the Bronco greats.
2020 Prospectus
Kaniho has just been on another level as a Bronco. He is consistently near the ball and making plays. Kaniho will be the starter at nickel. Jones is a very capable player, but it would take some serious to happen for Kaniho to be supplanted.
His production has been nothing but consistent. On top of that, he has improved every year. That's exactly what you want to see from a leader on your team and Kaniho exemplifies that. While we only have him for another year, we fortunately get his brother for the next 4.
Is he on Twitter?
He's one of the few that isn't, and he probably has more of his sanity by doing so.
Completely made up fact
As a self professed Lego Master, he has become a true master of the material. He has been able to build himself his dream home AND car just from the tiny bricks he has collected since he was a child. He just has to be careful when it starts getting hot...