We're at the "under 10" mark and usually we'd be prepping game week materials like Know Your Enemy, Anagram Rosters, Previews and what not. This year, we'll be watching past Bronco football hype videos on youtube while R.E.M.'s "Everybody Hurts" plays softly in the background. You know...normal stuff.
#9, Jonathan Earl, Junior, CB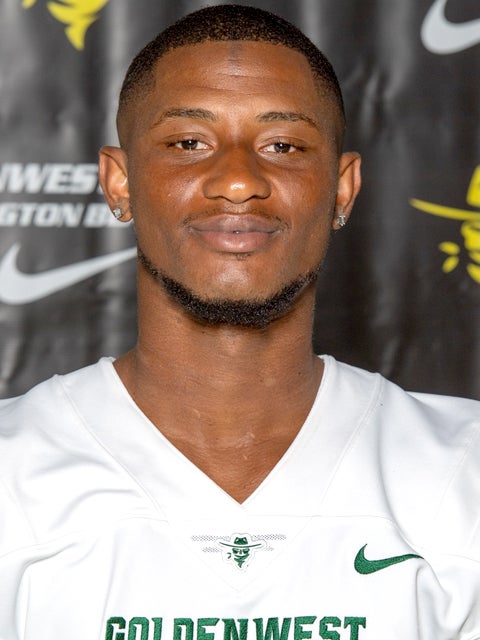 (Photo: Golden West football)
Stats
Height: 6'3"
Weight: 195 lbs.
High School/College: Cox Mill High School, Concord, NC/Golden West College, Huntington Beach, CA
How'd he get to The Blue™?
I don't know a whole lot about Earl's football career back in North Carolina, but I was able to surmise that he was a pretty decent prep basketball player as well. After he got to Golden West College (Huntington Beach, CA), Earl played both WR and defensive back (WR as a freshman and defensive back as a sophomore). Since DB is where the Broncos recruited him, it appears that was a good move—as a sophomore, Earl had 43 total tackles, 2 INTs, and a forced fumble, leading to an all-conference nod.
Nickname
"Duke"
I mean, you get it or you don't
Look-alike
Usher
Career Highlights
Made 43 tackles and 2 INTs in his first year playing cornerback at GWC (2019). As a receiver at GWC in 2018, hauled in 22 passes for 349 yards and 6 TDs.
2021 Prospectus
Look, we all know this situation is NOT IDEAL..but when the Broncos return to play they are going to have some serious depth, talent, and SIZE in the secondary, and we can agree with Martha Stewart that that's a good thing™. Making the not-so-wild assumption that Avery Williams and Jalen Walker remain our starting corners, it's a pretty good bet that Markel Reed and Tyric LeBeauf and/or Chris Mitchell will be somewhere in the mix to spell the starters. Earl, who has 3 years to play 2 and the frame to play either corner or safety could work his way into the rotation as well, and will probably get his feet wet on special teams if the Broncos choose to use his eligibility immediately. Earl's work ethic is said to be extremely high (he grayshirted two years before playing at GWC AND worked a job while attending), so I have no doubt he'll be up to whatever task the Broncos lay before him. We're in a strange, rough spot as a country with this whole pandemic deal...but when things return to normalcy, I think we'll be in a great spot with our defense. You'll hear this kid's name soon.
Is he on Twitter?
Yes, and acclimating well
This Idaho weather different different

— •EarlThePearl• (@Team_Warning704) June 7, 2020
Completely made up fact
Yes, Earl is very tall for a cornerback but there is NO truth to the rumor that he acted as a stand-in goalpost while they were being painted.