HAPPY INDEPENDENCE DAY!!
I hope you're all having a fun and safe holiday. We're winding down the 60's and today we check in on one of the few Hawaiian island transplants. Let's read up on #63, Riden Leong.
#63, Riden Leong, Junior, OL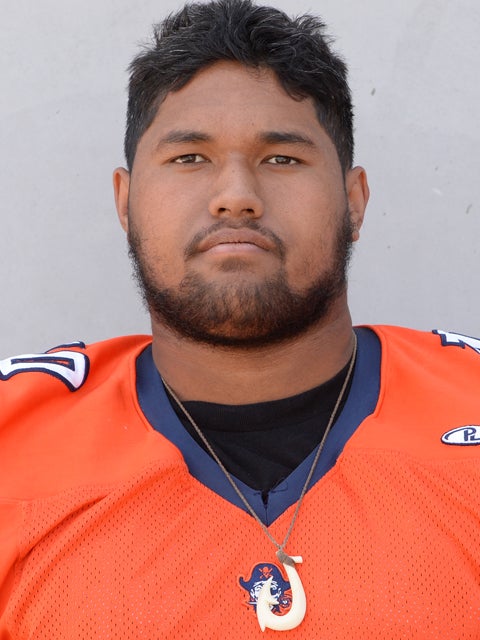 Stats
Height: 6' 5"
Weight: 320 lbs
High School: Maryknoll High School, Honolulu, HI / Orange Coast College, Costa Mesa, CA
How'd he get to the Blue™?
Riden quietly had a respectable offer list, passing on scholarships from Iowa State, TCU, UTSA, San Jose State and Hawaii to be a Bronco.
Nickname
"Thunder"
For whatever reason I couldn't get Mortal Kombat out of my head... you know Raiden...nevermind
Look-a-like
Mike Iupati
Career Highlights
While stats aren't generally kept for offensive lineman, Riden is considered the 6th best JUCO prospect on the O-line according to ESPN and #16 compared to 247Sports. He was a consensus 3-star prospect.
2020 Prospectus
I think Riden is in a great place. As I've talked about previously, Riden's JUCO experience will help him immensely, along with the rest of the line, after losing some seniority to graduation. Riden will likely be competing with Donte Harrington at RG, though I think the coaches will not hesitate to mix it up if they feel it's necessary.
While Donte has been on the team for a bit and has learned the dynamic and culture, Riden's junior college experience will help him. With Harrington likely being KHG's main back-up, Riden could be in for increased play time to keep Donte from getting too banged up in the event that something happens to Kekaniokoa.
The O-Line will be an interesting position to watch prior to the season.
Is he on Twitter?
Is it dusty in here? I think it's dusty in here.
Love your family and everybody in your life❤️

— Riden Leong (@RidenLeong) January 29, 2020
Completely made up fact
Riden is a longboard enthusiast. In fact, in his home state of Hawaii that was his primary mode of transportation. He'd ride to Diamond Head Beach Park after school, often beating his friends in cars. He recorded 3,200 miles on his board and top speeds of 40 mph without breaking a sweat his senior year.