Well, it's here again (no, not the McRib). Another season is upon us and with it, the distinct honor of playing Air Force in football. I'm not going to lie, it's not going to be fun or nutritional. We'll be fed a steady diet of triple-option tomorrow afternoon and try to wash it down with a Pumpkin Spice something or other. But hey...just because tomorrow's contest is one we all dread doesn't mean we can't have a little fun leading up to the game. Let's know our enemy!*
*enemy a rhetorical term in this context in case DoD is reading this
Ten things you might not know about Air Force or their wild blue yonders
10) The Air Force Academy, located in Colorado Springs, CO was founded in 1954—making them one of the youngest major institutions in the country—and just a shade over 150 years younger than the US Military Academy and about 110 years younger than the Naval Academy. The US Air Force, as you might expect, is also the youngest of the 3 major U.S. military branches—founded in 1947. It should also be noted, that the modern Air Force does not hold shirtless beach volleyball tournaments on the weekend, despite what Top Gun has led you to believe...oh wait, Top Gun was a Navy unit? Then I'm really not that sure about the shirtless volleyball tournament thing.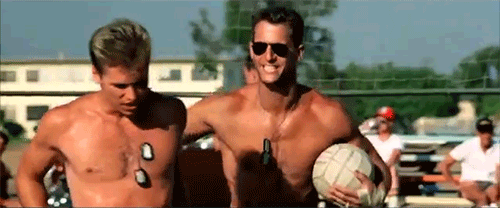 They work hard. They play hard.
9) Air Force played their first collegiate football game in 1956 and did surprisingly well. Well, maybe not surprising, since I've gathered from movies that in the '50s, most exercise regimens were comprised of doing high knees, boxing kangaroos, and tossing around medicine balls—military personnel would have a distinct advantage.
But I digress...
Anyway, the Falcons went 6-2-1 their first year of competition playing almost entirely in the confines of their home state. Their coach in their inaugural year was Lawrence "Buck" Shaw, who amazingly was the only coach to leave the academy with a winning record until Fisher Deberry came along in 1984. Shaw had previously coached at Nevada and Santa Clara, but was best remembered for his playing days at Notre Dame, where he was an All-American tackle and placekicker for the legendary Knute Rockne. Shaw originally attended Creighton University but played just one game for the squad before they called the entire season due to a flu epidemic. Ahh, the early 1900s—where men played football with no padding and trench foot, but seasons were called due to the flu. Well, 1900s and 2020 I guess?
"Just look at that stitching."
8) The more things change, the more they remain the same. In February of 1978 the Air Force Academy ground to a halt as roughly 65 percent of the 4,300 students came down with the Russian flu. The head of the Academy hospital asked for classes to be canceled as cadets needed a medical permit to miss classes and the number of permits being requested probably went through half a year's worth of paper provisions. In another timely mirror, the flu was thought to generally attack those under 25 (cadet age) because the older folks had acquired an immunity to that particular strain as it was common in the late 40s and 50s. So, if the Russians were sending their flus over here during that time why did they call it the "Cold War"?
7) Attending the Air Force Academy isn't as simple as getting good test scores or having a high blood-alcohol level (University of Idaho)...you have to meet a much more stringent set of qualifications to become a cadet. First and foremost, you must be a U.S. citizen, although exceptions may be made if the entrant is invited by the Department of Defense...ooh...can we get Van Damme? Secondly, the prospective cadet must be unmarried and have no dependents. Third, you must be of high moral character—I like to call this one the "3 Rs" rule...no ruffians, riff raff, or rascals. Lastly, you must be between the ages of 17 and 23 and pass a battery of medical and physical tests (ie, can't be "4F" on account of the ear or otherwise). On top of those standards, a cadet must produce a "nomination" from a U.S. Senator or Representative. I'd like to think that the nomination needs to be written in blood using a quill made from a bald eagle feather...but I think they abandoned that requirement around the same time the let the ladies in.
6) Because Air Force cadets most definitely come to the academy to "play school" (sorry, Cardale) the Academy simulates the organization of an operational Air Force wing, which cadets are responsible for running and operating. The cadet wing's roughly 4,000 members are organized into four groups of 10 squadrons each and the cadets live, eat, and train with their squadrons. Some of the squadrons at the academy are the Dogs of War, the Phantoms, the Barnstormers, and the sketchy-sounding "Loose Hawgs". One squadron that I don't think was properly vetted was "the Cobras" as I believe the "G.I. Joe" squadron may not be too keen.
5) The falcon has been the official mascot of the Air Force Academy since 1959, when it was selected by popular vote (remember, this was before females were admitted, otherwise they might have been the Ponies, or the scented lip balms—I really know women, don't I?). The official mascot's name is simply "the Bird". Oh...haven't you heard about "the Bird"? Well, I don't want to go telling tales out of school...but I have it on good authority that "the Bird" is the word—keep that info close to the chest. Since 1955, live falcons have also been trained at the Academy and in general 12 falconers (3 from each class) train birds every year for exhibitions and home football games. Now you know why entrance to Falcon Stadium is forbidden if you have a live mouse in your pocket (frankly, I'd discourage it anyway).
Yes, all falconers look exactly like this.
4) Bill "Big Tuna" Parcells served as head coach at Air Force for one forgettable 3-8 season in 1978. To date, it was Parcells only head coaching job at the collegiate level, and yet he somehow parlayed his lack of success into a job as defensive coordinator for the NY Giants the following year. In layman's terms…he pulled a Tom Cable. Fun fact: Parcells was a basketball assistant to Bobby Knight in 1966 at Army. Knight taught him everything he knows about the lost art of chair-throwng.
3) The architectural and engineering firm Skidmore, Owings and Merrill designed the Cadet Chapel at the U.S. Air Force Academy. The architect Walter Netsch is generally credited with the design of the iconic chapel that was named a National Historic Landmark in 2004. Fittingly, for a service academy, Netsch's design is considered a icon of brutalist design and may be the only building on campus that you could be impaled on.
"I see your point."
2) Air Force Academy cadets eat most of their meals at "mighty" Mitchell Hall ("food so good, it's absolutely mandatory")—a massive space that looks like a standard cafeteria on HGH. The mega mess hall spans 1.7 acres and has the capability of serving the entire cadet wing—at the same time—in about 30 minutes. There's that famous military efficiency (but with rolls). The facility is named after General William "Billy" Mitchell who is either the mulleted Pac-Man pro OR the father of the modern Air Force who through a series of widely-publicized "tests" in the 1920s, demonstrated that airplanes were a cheaper and more efficient way of sinking naval destroyers...something the Navy wasn't too pleased about. Yeah, I'm almost positive it's the second guy.
Ehhh. It's pretty big, I guess.
1) I'm sure there have been a lot of tough football players at Air Force, but for my money, the toughest was Lance Sijan. Sijan played for 3 seasons at Air Force before quitting the team to focus on his studies. He graduated from the Academy in 1965 and entered Vietnam as a 2nd lieutenant flying F-4 Phantoms in Danang. In 1967, on Sijan's 52nd combat mission, his Phantom crashed in the jungle and despite extensive injuries, he evaded capture for 46 days. Once Sijan was finally captured, he was able to overpower his captor and escape, again despite being in very poor health. Sijan was re-captured yet refused to divulge any information to his captors even though he was severely beaten and tortured. Sijan died of pneumonia in Hanoi in early 1968 and posthumously received the Medal of Honor and the rank of Captain. A dormitory at AFA is named in his honor and statue of Sijan was added to the campus in 2009.
Honor.