70s begone! With just 70 stinking days until Boise State takes on Florida State, we're going to take a look at our giant local product—John Ojukwu
#70, John Ojukwu, Sophomore, OT
Stats
Height: 6'6"
Weight: 305 lbs (+6)
High School: Boise High School, Boise, ID
How'd he get to the Blue™?
Well, he didn't go far. After a season as a staple on the sidelines of Bronco home games, Ojukwu committed to the Broncos and joined the team in time for spring camp. By choosing the hometown Broncos, Ojukwu passed on offers from Hawaii and Portland State.
Nickname
"Little John"
For 'tis opposite day!
Look-a-like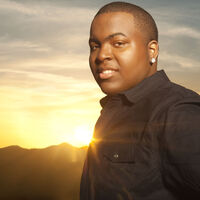 Rapper Sean Kingston.
Career Highlights
Appeared in 12 games for the Broncos in 2018, with 7 starts. 3-star tackle in high school according to 247sports. Earned first-team all-conference and first-team all-state as a senior. Lettered in wrestling and track & field. Graduated early to join the Broncos in the spring.
2019 Prospectus
If you've been paying attention, we've all had Ojukwu penciled in to start at right tackle for some time, and I don't think anything is bound to change that save an act of God. Ojukwu started 7 games last year for the Broncos and I dare say the unit looked better when he was holding down one end of it. Ojukwu came to Boise State with a ton of promise, and in my opinion has shown he's ready for a central role after just one year of playing time. Ojukwu has the frame and the athleticism to really prosper on the outside edge and if he can maintain his form and put together an all-conference type of season, the Broncos should be in GREAT shape on the line. Remember, he'll be a bookend with All-American Ezra Cleveland, so if both tackles can perform at the levels they're capable of...the Bronco offense should be MOVIN'. With new starters at RB and QB, that extra bit of time and/or blocking will be invaluable.
Is he on Twitter?
Yes, and he's gunning for Jeremy Wade's job.
Completely made up fact
John's surname name is pronounced "oh-JOO-KOO" (this isn't the made up part), which nearly shares its name with a 1948 riot in Chicago when a delicatessen ran out of French Dip Sandwiches. 37 people were injured in the so-called "Au Jus Coup".