We're one step closer to kickoff, people! As noted poet and philosopher Shawn Carter once intoned, "I GOT 99 PROBLEMS, BUT A STUD AIN'T ONE" (paraphrased).
#99, CURTIS WEAVER, RS JUNIOR, STUD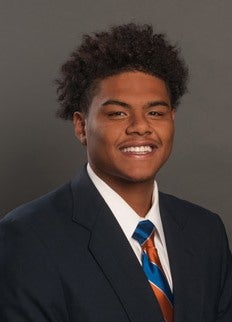 Stats
Height: 6'3"
Weight: 264 lbs
High School: St. Anthony HS - Long Beach, CA
How'd he get to The BlueTM?
After a few offers from Wisconsin, Duke, and New Mexico, Curtis took an official visit to UCF, immediately realized the error of his ways, and promptly visited & committed to Boise State the very next week.
Nickname
Much like famed pro wrestler Ron Killings, Weaver is known simply as "The Truth".
Some more star-struck OBNUG writers have referred to him as "Dream Weaver", but let's not digress into their fantasies.
Look-alike
A young Muhammad Ali, but less "dance like a butterfly, sting like a bee" and more "work like a madman, hit like a truck".
Career highlights
Curtis is sixth all-time at Boise State in career sacks with 20.5, and still has at least one more season to go. After his breakout RS freshman campaign of terror, opposing teams definitely put more effort into stopping him, but he still racked up 9.5 sacks and a healthy 43 tackles overall in 2018. You cannot deny The Truth.
2019 Prospectus
After a season of the defense adjusting to life without LVE wrecking face, Weaver seems primed for a huge junior campaign. If the secondary can buy him a couple seconds, Weaver is going to introduce a lot of opposing ball handlers to the new Blue turf personally.
However, his production is going to rely on the rest of the defense stepping up their play, or he's going to face a LOT of double-teams. If the rest of the defense can make opposing lines pay for doubling Weaver, we're gonna have a fun fall.
Is he on Twitter?
He's a bit difficult to find with his obscure username, but you can follow him @curtisweaver99
Completely made up fact
Curtis is a huge Grand Theft Auto gaming nerd, and won a contest to be a minor character in GTA:V.