Game facts
Time: Saturday, December 21, 5:30pm
Location: Sam Boyd Stadium, Las Vegas, NV
Weather at kickoff: 52° Partly Cloudy (zero chance of meatballs)
Odds: Washington by 3.5
TV: ABC
Radio: KBOI 670 AM
Commentators: Bob "Wishy Washy" Wischusen, Kirk "Herbie" Herbstreit, Molly "Not related to that Sugar Ray guy" McGrath
Other facts
1. No love lost
Chris Petersen has more than 20 years of coaching under his belt, but the gigs he'll be remembered for if he's truly done with the grind are his head coaching stints at Boise State and Washington. So, it's more than a little ironic that his last game as head coach at Washington is against his former school—especially since his former school will probably build a statue for him someday. All Petersen did at Boise State was win 92 games (two of which were BCS bowls) and 5 conference titles...and did so with humility and class that are increasingly rare in this day and age. Listen, Pete is still the MAN 'round these parts and as great of a job as Bryan Harsin has done keeping the Bronco flame, he's still in Pete's shadow until there's a more sizable memory fade. That said, Pete was the guy that moved on and Harsin eagerly stepped into that cozy catbird seat and just won his 3rd conference title as the BSU skipper. I've rooted for Petersen in all but one game since he's moved to Seattle and the football gods must be crazy because here I am...not rooting for him in his last one. Love ya, Pete...but Go Broncos.
2. Remembering Dallas
With this year's bowl on the immediate horizon, one can't help but recall last year's bowl game—the now legendary First Responders Bowl in Dallas, Texas. For a glorious 9 minutes, Boise State and Boston College locked horns in an epic clash that will long be remembered as a big, fat asterisk. The Athletic's Dave Southorn wrote a lengthy oral history of the most epic half-quarter of football ever played, so go check that out if you're feeling nostalgic.
3. Weaving on a jet plane
We already know that (at least) two Huskies have decided to forgo this year's bowl game to put their draft stock in bubble wrap, but the Broncos have their own NFL hopeful that might be even higher on draft boards. I'm of course talking about the inimitable Curtis Weaver, who's just a junior, but could be a first-round draftee right this very minute if he so chose. Will he choose that path? Probably, but after the New Mexico game where Weaver appeared to be badly hobbled, he famously said it would take a stretcher to keep him off the field, so here rides Weaver into possibly his last battle in blue and orange and if this is it...ya done good, kid. Ya done real good.
4. Scouting report: QB mobility looks limited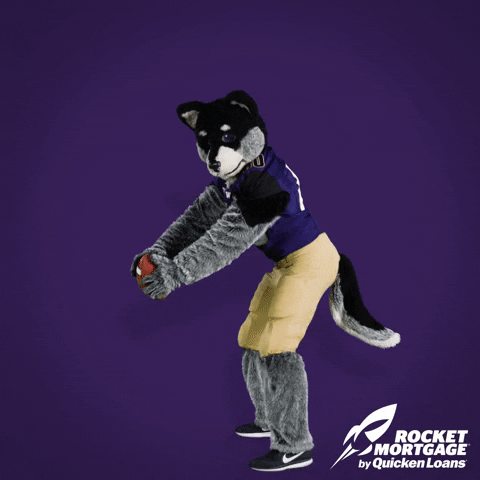 Streaks
Boise State - Won 6
Washington - Won 1
Beaks
Best name on their roster
This was a hotly-contested race, but LB Ruperake Fuavai just spoke to me.
Best picture on their roster
OL Trey Adams (who will not be playing in the game very fortunately) was voted "most likely to be besties with Garrett Larson" by...me.
Players to watch
Jacob Eason, QB
Eason, a local Washington (Lake Stevens) product returned "home" after transferring from Georgia, who he signed with out of high school and helped lead to the 2018 CFP final. Eason wasn't just any recruit at Lake Stevens...he was THE recruit at Lake Stevens—a 5-star stud with more offers than you can count (in a reasonable time period, anyway). In his first year as the Huskies' starter, Eason definitely showed flashes of what made him a blue chipper and finished the regular season with nearly 3,000 passing yards, 22 TDs and just 8 INTs. Eason can make every throw, so the Bronco secondary will need to mind their p's and q's...and at 6'6" and 227 lbs., he'll scoff at arm tackles...so the Broncos will need to bring him down if he's in their grasp.
Salvon Ahmed, RB
The stout junior RB hit 1,000 rushing yards on the dot in the regular season (which means he's 21 yards ahead of Bronco frosh phenom George Holani). Ahmed was named honorable mention All-Pac-12 and to the PFF's conference third team after becoming the 9th Husky rusher to amass 1,000 yards in the last 10 seasons. Ahmed had 9 TDs this year and a very healthy 5.5 yards per rush. Gotta wrap up!
Aaron Fuller, WR
Despite Eason's considerable talent, the Huskies just don't bring a prolific passing attack into the Vegas Bowl. Two of their top 3 receiving targets are tight ends, and the best one—Hunter Bryant—will not be participating in the bowl game on account of being a well-thought-of NFL prospect who wants to stay in mint condition (Curtis Weaver is also a well-thought-of draft prospect, but nobody brought a stretcher, so he'll be suiting up). Anyhoo, enough about that; behind Bryant, Fuller is the team's second-leading receiver with 673 yards and 6 TDs on the year. At 5'11", he's not exactly a matchup nightmare, but he's very capable of getting open, so not giving Eason time to find him would give our defense a...uh...fuller chance at victory.
Elijah Molden, DB
Molden, a 5'10" 190 lb. junior had one heckuva year for the Huskies and something tells me he's not quite done yet. The talented DB led the team with 70 tackles and also pitched in a team-leading 3 INTs en route to All-Pac-12 First Team honors as well as being named to the PFF All-America Second Team. The Oregon product could make life somewhat more difficult for Bronco wideouts, so keep an eye on #3 at all times (well, when he's on the field, anyway).
Nick Harris, OL
The hefty senior center for the Huskies was an All-Pac-12 first-teamer the last two seasons and added "All-American" to his resumé after a stellar 2019 season. Harris is a force in the middle...which makes me glad that's not where Curtis Weaver lines up.
Levi Onwuzurike, DL
Onwuzurike was a first-team All-Pac-12 performer this season (possibly his penultimate with the Huskies) and this 6'3" 293 lb. monster of a man racked up 41 tackles (5 for loss) and 2 sacks. The "swinging gate" blocking scheme we've employed at times this season won't work all that well against Onwuzurike. Do better?
Players NOT to watch
TE Hunter Bryant and OT Trey Adams have elected to sit this one out. As they are two of the Huskies better players, I've elected to be okay with this.
Keys to victory
Get takeaways. Giving our offense more opportunities to score seems like a great plan.
Limit the big play. The Bronco secondary has really jelled over the last month or so, but Eason is yet another NFL-level talent. They'll need to be at their best.
Establish the run. Selfishly, I want George Holani to hit that 1,000 yard mark—and chances are high that he does, but establishing the run will pay other dividends against a formidable foe as well. Run it till you can't, boys.
Don't lose. I've been right about this 12 times this year.
Score prediction
Since this may be Pete's final game...an instant classic is in order (but a Bronco victory...sorry, Pete)
Boise State 21, Washington 20