It's that time again. Knowledge is power.
Ten things you might not know about UConn or their Husky haven
10) Yukon is the westernmost of Canada's three federal territories and has the smallest population (35,874) of any province or territory in Canada. In 1898, the territory was split from the Northwest Territories and y'know what...I see what I did now and I apologize for it.
9) UConn was founded in 1881 as Storrs Agricultural School and was named after its land donors and benefactors—brothers Charles and Augustus Storrs, who kicked in $5,000, a Civil War orphanage, and 170 acres of land to get the ball rolling. The school was initially men only, likely because of the Cooties outbreak of '83, but women were admitted by 1893, just as the school changed its name to the much more sophisticated Storrs Agricultural College. The school would go through 2 more name changes (Connecticut Agricultural College, Connecticut State College) before finally landing on the one they stuck with, The University of Connecticut, in 1939.
$5,000 used to go a bit further.
8) Storrs, Connecticut—home of the University of Connecticut (hereafter known as "UConn") resides within the town of Mansfield, CT (guessing some sort of Vatican/Rome situation or at the very least a Garden City/Boise situation) which was incorporated in 1702 from the town of Windham, making Storrs the Russian nesting doll of U.S. cities. Not much of note really happened in the town of 26k, but it was home to the first silk mill in the US. Yeah, I said "was"...sorry, thrill seekers.
7) UConn played their first year of collegiate football in 1896. The coachless squad went a respectable 5-3 but only played 5 different teams in the 8-game schedule. Willmantic HS, Willmantic YMCA, and Middletown HS each got a rubber match that first year as Connecticut slogged through their inaugural campaign. It wasn't until 1898 (the same year the Yukon Territory split from the Northwest Territories, if you'll recall) that the squad got a proper coach, E.S. Mansfield...who promptly led them to a winless season. Of course, that didn't sit well with the UConn brass and they contemplated re-hiring "no coach" before they decided to give "some coach" T.D. Knowles a shot. Knowles turned out to knowles what he was doing and the team went 6-2 in his first year. Knowles stuck around for 3 seasons before turning the reins over to "Captain" E.O. Smith who helmed the squad for just 4 years, but was the longest tenured coach at the institution until 1923 when Summer "Winter" Dole took over and led the team for 11 years, then gave way to J.O. Christian who headed up the show for 15. Christian is still the longest tenured coach in the school's history but not the winningest...that title belongs to Randy Edsall—who racked up 74 victories between 1999 and 2010. Edsall left Storrs for Maryland in 2011 and had a stint with the Detroit Lions in 2016 before making a triumphant return to the Huskies last season. Well, maybe "triumphant" should be "TBD" as he's only added 3 more wins to his running total in Storrs since his return.
Famed UConn player Clark Kent.
6) Founded as an agricultural college, you probably guessed that early UConn squads played under the moniker "Aggies", a lazy nickname that 90% of the farm schools adopted in the early days. It was in 1933 when the school took on its penultimate name of Connecticut State College, that the "Aggies' became the "Huskies". One story about how this came about, as Huskies aren't really a native breed of Connecticut, goes that the use of the contraction "UConn" brought about the name change since "UConn" and "Yukon" are homophones (stop snickering). Huskies are native to the Yukon territory and BAM! there's your connection. The other story, which is far more plausible and boring, is that the students simply voted on the Husky after becoming covetous of other area school's live mascots. The live husky mascot's name is "Jonathan" after Connecticut's revolutionary war governor Jonathan Trumbull, who had fleas and shed terribly. Proving that all live school mascots must have a tragic history...the first "Jonathan" was hit by a car a few days before his "naming" but soldiered on and attended a few basketball games before he succumbed to his wounds.
Jonathan VII who served/lived from 1964–1977, was nearly a victim of the anti-war movement, as the Student Senate voted to sell him in 1970 because he (this is not a joke) "represented the establishment". Jonathan VII was saved by a student petition, but many never forgave him for getting the US into Vietnam. We're currently on Jonathan XIV, but he dreams of just retiring to a secluded New England town and chasing cars on his own time (although he might want to rethink that, THREE Jonathans have died by being struck by a car).
Establishment pawn, Jonathan VII.
5) UConn has never really been known as an offensive juggernaut, but in 1949 they hit the perfect storm of awesome and a potentially drunk coach J.O. Christian when they lined up against Newport NTS. UConn went just 4-4-1 that year and had tied Maine 12-12 the week before Newport rolled into Storrs to take their medicine—a 125-0 beatdown at the hands of the suddenly less-than-Christian coach Christian. In almost 120 years of football, UConn hasn't once come within 49 points of that output, but they've got the benchmark proving it can be done. By the way, the "NTS" on Newport might just stand for "Note To Self" and that note? "Don't travel to Storrs when Coach Christian is feeling fighty".
4) Try as Randy Edsall might, he'll never be THE winningest coach on campus even if he stays on for another 50 years (his current contract is only for 49). This is because of the existence of one Geno Auriemma, who coaches the Husky women's basketball team (and has since 1985). Geno is just a shade ahead of Edsall's win total—950 to be exact...and since 1985 only has 56 more losses than Edsall has accrued as well. Auriemma also has a tidy 11 national championships, including 4 in a row between 2013 and 2016. On occasion, the stars align and the women's and men's basketball teams sip from the same championship stein mug...both squads won their respective NCAA titles in 2004 and 2014. Clearly, 2024 will be the year of the Husky.
"We're up by thiiiiis much."
3) UConn's football stadium, Rentschler Field (capacity 40,642), is not on campus but rather in East Hartford...about a half hour away. The field opened in 2003 and is named after Frederick Brant Rentschler, who founded the aircraft arm of the company Pratt & Whitney, whose company airfield had previously occupied the site. Frederick Rentschler was an American aircraft engine designer and aviation engineer who had a hand in the success of early aviation pioneers like Charles Lindbergh, Amelia Earhart, and Rocket J. Squirrel. Rentschler even appeared on the cover of TIME magazine in 1951 but failed to make the cover of Teen Beat's "Hunks of Aviation Engineering" special edition. This is where Boise State and UConn could host a fun, crossover issue of Know Your Enemy, because did you know that the land that Boise State University's campus sits on was once an airport (and before that, a landfill!)? Not just that, but the HQ of Varney Air, an air-mail carrier that in 1930 was acquired by United Aircraft and Transport Corporation, which itself was formed by a merger between Boeing and, you guessed it, Pratt & Whitney. Today, that series of mergers is known as United Airlines, who are known to fly some of the friendliest skies.
Rentschler with his famous air-cooled engine and floating head.
2) As you've read above, there is a healthy amount of one-upmanship constantly taking place on UConn's campus, and yes...it is possible to even one-up Mr. Geno "Pizza Roll" Auriemma and his pathetic 11 national titles. You see, before Auriemma came to Storrs and started placing trophy cabinet makers on retainer, a certain campus squad racked up FIFTEEN national championships between 1926 and 1955. That's right, UConn's women's archery team were the original BWOCs, winning 'ship after 'ship and even drubbing Los Angeles City College's team, who had at one point won 11 straight titles. It seems the lady Huskies started competing at the right time too, as prior to 1926 all archery competitions were to win the hand of a maiden fair.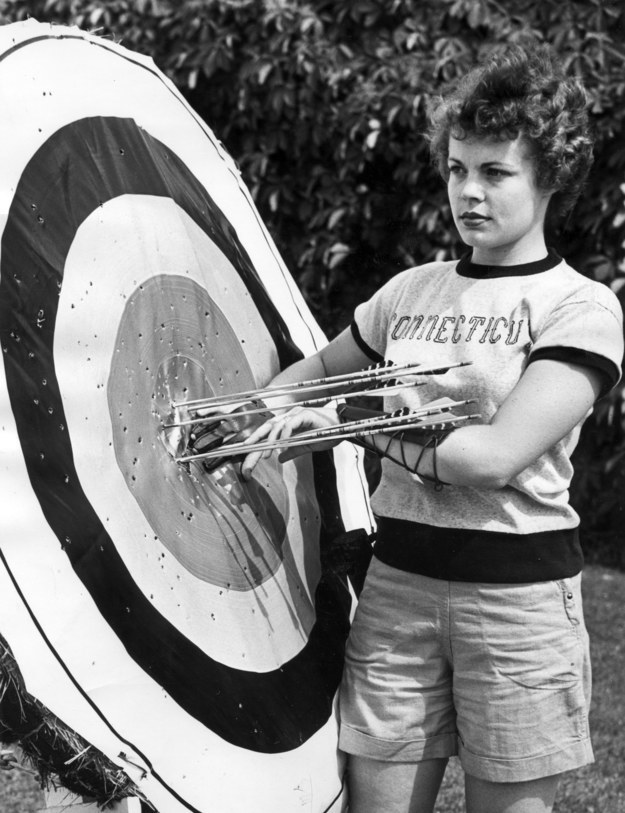 Robin Hood (the name "Robin" is unisex, you see?)
1) You might think a coydog is a dog putting on a false pretense of modesty, but it's actually a coyote crossed with a... (checks worst dog to crossbreed a coyote with) beagle. I know this because UConn bred these adorable scavengers at a kennel facility in the UConn forest in the 80s as part of a 7-year genetic research program. The program? To breed an animal with the characteristics of both Snoopy and his desert-dwelling cousin Spike. Well, the story has a strange, sad end as one of the coydogs was killed, inexplicably, by a UConn student in a (supposedly) failed abduction attempt so he could show the crossbreed to his chums. Luckily, 27 other coydogs had been bred, but the death of this one threw the entire project out of whack. Geez, I'm sorry I ended with this one.