Well, here we are again at the precipice of another big game with even bigger implications. The Broncos have a tall task ahead of them in Big 12 country on Saturday afternoon, and we've already outlined the potential pitfalls here...but what we haven't done yet is share some facts and figures about our gracious hosts. Now...consider that done.
Ten things you might not know about Oklahoma State or their still-watered sanctuary
10) Stillwater, Oklahoma was established in 1889 during the Oklahoma Land Rush, but it's possible that settlers had caught wind of the Stillwater area through an 1832 book by Washington Irving called A Tour of the Prairies. In the book, if my interpretation is correct, Irving noted the staggering amount of buffalo poop in the area.
"a glorious prairie spreading out beneath the golden beams of an autumnal sun. The deep and frequent traces of buffalo, showed it to be one of their favorite grazing grounds."
Now, my theory here is that the guy or guys that claimed 240 acres as Stillwater Township at the outset of the land rush were after the vast buffalo dung resources as it was used as fuel at the time (and also makeshift frisbees). Prove me wrong.
9) There are several legends as to how Stillwater got its name, and you probably won't be surprised to hear that all of them revolve around someone noticing some calm water nearby. Indeed, a creek in the area had been dubbed "Stillwater Creek" by either Native Americans or settlers that had the requisite eyeballs and sensory faculties to determine water movement, and this might have prompted David L. Payne to make the startling suggestion that the town should also be called Stillwater. I sincerely hope this is the case because then the town would have been named in the same "stating the obvious" fashion in which George Costanza's co-worker was dubbed "T-bone" by Mr. Kruger.
8) Oklahoma State University was approved as a land-grant university just one year after Stillwater's"founding", in 1890. When it opened its doors in 1891, it was under the long-winded moniker Oklahoma Territorial Agricultural and Mechanical (A&M) College but was at least able to drop the "territorial" part in 1907 when Oklahoma achieved statehood. For the first two and a half years, classes at OTAMC were held in local churches until the university's first academic building "Old Central" opened in 1894 on the southeast corner of campus. Two years later, in 1896, the school held its first commencement with six graduates—all of them male and all of them frustrated. In 1957, the school changed its name to Oklahoma State University of Agricultural and Applied Sciences because syllables were all the rage at the time, but Reaganomics forced the school to formally drop the "Agricultural and Applied Sciences" tag in 1980 and the savings from ink on letterheads "trickled down" to the middle class.
7) Since prior to 1957, OSU was known as geez don't make me type it again, it was one of approximately one million agricultural schools to call their athletics teams "Aggies" and as such, went with the natural fit and had a pet tiger as their mascot. Wait, what? In 1923, A&M was looking for a new mascot, as tigers—even then—were somewhat hard to come by and a group of students saw Frank Eaton leading an Armistice Day parade in Stillwater and inspiration struck. Eaton was a famed cowboy and gunfighter (born in Connecticut) that despite being named "Frank" had picked up the moniker "Pistol Pete" because of his prowess with a sidearm. The students decided there and then that Eaton was the perfect model for their new tiger-free mascot campaign, and Eaton agreed to let his trademark look (ten-gallon hat, bushy mustache, horrible rickets) be caricatured as A&M's new mascot. The mascot proved to be so popular, that the terms "Aggies" and "Cowboys" (and sometimes "Cowpunchers") were used near-interchangeably for years until the school achieved university status. To this day, the OSU mascot is known as "Pistol Pete", which as you now know, is NOT a nod to LSU and NBA legend "Pistol" Pete Maravich (whose name was not Frank).
6) Oklahoma State played their first season of football in 1900 but struggled in their formative years without a coach. "Help" would arrive in 1906 in the person of Lt. Boyd A. Hill. I can find next to nothing about Hill so can only infer that a) he was a lieutenant, and b) his nickname probably included "Pete". Maybe Hill's 1-3-2 record was unremarkable enough to not warrant so much as an epitaph, but I was impressed that he was able to spur his team to a 0-0 tie against Kingfisher. The lieutenant moved on after one season and ushered in the Edwin Parry era. Parry outlasted Hill with a two-season career arc in Stillwater that saw him go 5-6-1. Thanks to Wikipedia, I do know a little something about Parry—namely that he took the helm of the team directly out of school. Parry played tackle for the University of Chicago and as soon as his playing career was over (or he contracted dropsy), A&M gave him the reins (see, there WAS precedent for Kellen to become OC in 2012).
Next came Paul J. "Schneider" Davis, who coached the squad for six seasons (they must've finally put a chair in the coaches office) and he was the high water mark for coaching longevity in Stillwater until 1921, when Johnny F. "John" Maulbetsch (yes, the record books list his nickname as "John"—quite the stretch) lasted 8 seasons with the team—even though he only had 2 winning seasons. He was replaced by the first "good" coach in program history—Lynn "Pappy" Waldorf—who stayed for five seasons and won 65% of his contests despite having the nickname generally reserved for toothless gold prospectors. A short while later, in 1939, A&M hired their longest-tenured coach in program history—that is, until Mike Gundy—and his name was Edwin Lookabaugh. Lookabaugh, who went by "Jim" (why not "Pete"?) was a three-sport letterman for the Aggies (baseball, basketball, and football) back in the '20s who went on to coach his alma mater (also like Mike Gundy). His record was a "pretty good" 58-41-6, but he does have the distinction of leading the team to their one and only national championship in 1945. The 9-0 Aggies were only retroactively given the title in 2016, as undefeated Army was named the champion in 1945 with (also undefeated) Alabama being named the runner-up. If that was confusing to you, you're in good company.
Never Lookabaugh in the mouth.
5) Oklahoma State has a long list of distinguished alums (like Gary Busey!), but none is more important than oil tycoon and sugar daddy extraordinaire T. Boone Pickens. Pickens, who is the chairman of BP Capital Management and worth over $1.4B, started his collegiate career at Texas A&M on a basketball scholarship, but lost his scholarship (possibly when they realized he wasn't related to Slim Pickens) and transferred to Oklahoma State, where he majored in geology and was first introduced to the "gold in them thar hills" methodology.
Well, you already know Pickens did quite well in the oil industry and let's just say Texas A&M wishes they'd kept him on scholly. To date, the 90-year-old Pickens has donated over $1 billion to Oklahoma State, with $265M going towards athletics alone. Historically, OSU is a losing football program (.480 win percentage), so their current "golden era" is, in no small part, due to Pickens' gold. Oh, and the "T" doesn't stand for anything cool like "Theophilus"...it's just plain old "Thomas"...I feel lied to.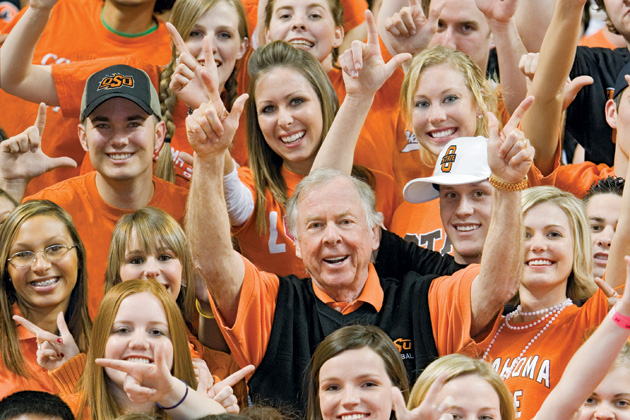 "Drinks are on me."
4) Oklahoma State's oldest and bitterest rival is Oklahoma, and the two teams play annually in what is known as "Bedlam". I'm not going to sugar coat this one...this is a rivalry in the same sense that steak enjoys a rivalry with baloney. Oklahoma has won 87 of the 112 games played betwixt the two and Oklahoma State didn't even score a single point in the series until the ninth time they'd played (or win one until the 12th). Even though we're smack dab in the "golden era" of Cowboys football, they've only won 2 of the last 15 matchups with the Sooners. It's ugly...but that doesn't mean it's not fun.
The first-ever matchup between the schools (a 75-0 win by Oklahoma) is said to have been played in near-freezing temperatures in Guthrie, OK. The wind was blowing so hard that an OSU punt actually went backward, sending both teams scrambling to recover the touchback/touchdown. Legend has it that the ball went completely out of the back of the end zone (a touchback by today's rules) and down a hill into a freezing creek. Both teams dove into the creek trying to recover the ball, which was eventually snagged by a hypothermic Sooner and downed for a touchdown (who needs rules, honestly?). Some think the "Bedlam" that ensued on that mad scramble is how the series got its name, but most think it's because of the bedlam in the crowds when the schools wrestling programs meet (also, "Annual Sooner Victory" was just a real mouthful).
Author Steve Budin, whose father was a New York bookie, claims in his book Bets, Drugs, and Rock & Roll, that the 1954 Bedlam game was fixed by mobsters. According to Budin's tell-all, mobsters paid off a cook to slip laxatives into a soup eaten by Sooner starters, causing them to become violently ill in the days before the game. OU still won the game 14-0, but did not cover the 20-point spread. Mobsters 1, Sooner GI Tracts 0.
Bedlams and broomsticks.
3) Football, successful or not, has always been big business in Stillwater, but Oklahoma State actually owns 52 NCAA national championships—4th most in the country. The natty total owes a lot to the wrestling program, which has grappled 34 of them, while the Cowboy/girl golf teams have 11, OSU cross-country has pitched in 4 nattys, while the men's basketball team won titles in 1945 and '46 (1945 was a good year for Stillwater, and for, y'know...the world). Finally, Cowboy baseball won it all in 1959. Not a bad haul, Cowboys and girls...but not one natty in rodeo or pistol marksmanship? Frank Eaton is spinning, rotisserie-style, in his grave.
2) Swiping popular music for your school song is a time-honored tradition (heck, Meridian High School swiped Edelweiss for God's sake) and OSU is no different with their traditional ballad "The Waving Song". The song's melody is actually that of "The Streets of New York", from a Victor Herbert Operetta called The Red Mill. An OSU/A&M professor named H.G. Seldomridge heard the song on a visit to New York and then audibly exclaimed "yoink". Seldomridge seldom cared about copyrights and brought the tune back to Stillwater to stage a rendition of it at a follies show. Seldomridge scrawled some new lyrics down and brought down the house as some campus letterman belted out the tune while waving their arms from side to side. Boom! A tradition was born and the song (and accompanying hand movements) have been sung ever since. Whatever you do, do NOT confuse this waving with Kansas football's celebratory "Waving the Wheat" because Kansas hardly EVER gets to do that.
1) Speaking of distinguished alumni (well, we were a minute ago), Oklahoma State football has produced exactly one Heisman winner—but he was one heckuva winner. Barry Sanders played at Oklahoma State between 1986 and 1988 and at the outset of his career, played second-fiddle to another pretty darn fine alum—Thurman Thomas. As a junior, Sanders took over the starting running back duties and only put together one of the best seasons by a rusher in college football history. The diminutive running back averaged 7.6 yards per carry as a junior and over 200 yards per game, including four games where he rushed for over 300 yards (and guess who his quarterback was...that's right: Gary Busey, I mean Mike Gundy). Despite being sorta small and getting a boatload of carries, the tireless back also returned punts and kicks for the Cowboys. During his Heisman season, he rushed for 2,628 yards and 37 touchdowns (he later tacked on a measly 200 yards and 5 TDs in their bowl game). He finished with 3,248 total yards and 39 total TDs. Despite being arguably the GOAT, Sanders only received 3 scholarship offers out of high school, and something tells me he might have been less highly-regarded if he'd attended Emporia State.
Sanders was pick #3 in the 1989 NFL draft and rushed for 15,269 yards and 99 TDs in his hall of fame career (despite running behind a garbage line in Detroit the entire time—Michael Johnson will back me up on this). This is usually the part of the factoid where I inject something snarky, but I just can't with Barry Sanders. I loved this dude.