I know we're on the last day of the 70s, but how? Today we'll look in on on #70 on the Boise State roster and local behemoth—John Ojukwu
#70, John Ojukwu, RS Freshman, OT
Stats
Height: 6'6"
Weight: 299 lbs (+14)
High School: Boise High School, Boise, ID
How'd he get to the Blue™?
Well, he didn't go far. After a season as a staple on the sidelines of Bronco home games, Ojukwu committed to the Broncos and joined the team in time for spring camp. By choosing the hometown Broncos, Ojukwu passed on offers from Hawaii and Portland State.
Nickname
"Little John"
I like Casey's suggestion from last summer. Ojukwu is one of the biggest of Bedell's merry men.
Look-a-like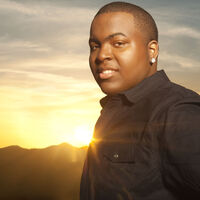 Rapper Sean Kingston.
Career Highlights
John was a 3-star tackle according to Scout. He was also listed as the #3 prospect in the entire state by Scout. He earned first-team all-conference and first-team all-state as a senior. He also lettered in wrestling and track & field as well. As I said, he graduated early to join the Broncos in the spring.
2018 Prospectus
I don't know how much action Ojukwu is going to see at tackle (presumably), but his playing time is only going to be on the upswing from here on out. Right now, it appears that Andres Preciado and Ezra Cleveland are headed for starting roles as bookends on the Bronco O-line, but there will always be rotations and a need for solid backup and that's where I John fitting in right now. Preciado is one of only two seniors O-linemen on the roster, so even if he edges out Ojukwu for PT this season, the local product will be right in the thick of that race next season (and honestly, who knows what can happen in camp).
Ojukwu is exactly the kind of guy that the Broncos have done well with at tackle...long, rangy, and athletic (he was a 3 sport star at Boise High). I think we see our fair share of him this season in a supporting role and then see him and probably Austin Dixon and Nick Crabtree wage epic battle in 2019 spring and fall camps.
Is he on Twitter?
Yes, and pin this tweet for 9/1
Completely made up fact
In high school, John was voted "Most Likely to Be Mistaken for a Tree".