Game facts
Time: Saturday, November 24, 8:15pm (MT)
Location: Albertsons Stadium, Boise, ID
Weather at kickoff: 32° (that's freezing), party cloudy
Odds: Boise State by 2.5
TV: ESPN
Radio: KBOI 670 AM
Commentators: Roy "Philly" Philpott, Tom "Gordon" Ramsey, and Edward "Achoo" Aschoff
Other facts
1. Love is in the air
The reasons behind the Aggies resurgence are numerous, but one of the biggest is the play of sophomore QB Jordan Love, who arrived in Logan with little fanfare, but has had an impressive season—his first as a full-time starter. Love has thrown 25 TDs this year with only 4 interceptions and while he isn't liable to go full Kaepernick and rush for a ton of yards, he's agile enough to not take sacks and he keeps plays alive. He's just 3 passing TDs behind Brett Rypien overall and could narrow that gap on Saturday if he plays his cards right. So far this season, there isn't much he hasn't done right.
2. Rank amateurs
To say that Utah State is in the midst of a dream season would be an understatement. When Utah State lines up on Saturday night they will do so as the highest-ranked team (besides the Broncos, of course) to ever play on The Blue. They'll also do so as an underdog. Ain't that somethin'? Boise State also has a chance to do something this month that only Alabama has done—beat a pair of teams ranked in the AP poll. Ain't that also somethin'?
3. Senioritis
Not only are the Broncos playing the biggest game of the year (until NEXT week if we happen to win), but they are doing so on Senior Night. No, I'm not referring to EVERY night at Golden Corral, I'm talking about the honoring of 18 Bronco seniors who could be playing their last game on The Blue. These Broncos are as follows (with one exception based on NCAA ruling on a hardship waiver): Chase Blakley, Jabril Frazier, Haden Hoggarth, Tyler Horton, Joseph Inda, Tony Lashley, Durrant Miles, David Moa, Sean Modster, Andres Preciado, Joe Provenzano, A.J. RIchardson, Brett Rypien, Skyler Seibold, Paul Semons, Quinn Skillin, Zach Troughton, and Blake Whitlock. That's about 8 regular starters and a host of all-conference dudes. They will be missed...maybe win this one and give yourselves one more go on The Blue, eh?
4. Man, I hope the Aggies don't bring this guy—because then they CAN'T lose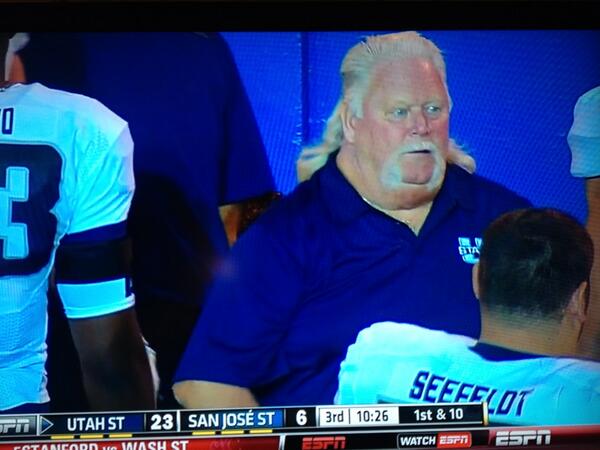 Streaks
Boise State - Won 6
Utah State - Won 10
Streams
Best name(s) on their roster
Lot of good ones, but I'm going with freshman O-lineman Chandler Dolphin who I'm told communicates with a series of squeaks and whistles
Best picture on their roster
This one was even tougher and honestly, I couldn't decide with so many hairdos to choose from...so here are my top three Baron Gajkowski, Jalen Greene, and Maika Magalei. Enjoy.
Players to watch
Jordan Love, QB
The sophomore slinger has been a revelation for the Aggies and given their offense the boost it's probably lacked since Chuckie Keeton was on campus. Of course, the Aggies are hoping he's much less injury prone than Keeton, because if he can stay healthy...good things should be in store for the Logan faithful.
Darwin Thompson, RB
This isn't the most stacked year for RBs the Mountain West has had, but there is still some talent there. Thompson is currently 4th in the conference in rushing yards (890) and 5th in rushing yards per game (80.9), but his yards per carry (7.4) is tops among MWC RBs and the guy that's second in the conference in YPC? Fellow Aggie committee member Gerold Bright. The Bronco defense has not been as stout against the run this season and Thompson could make them pay.
Ron'quavion Tarver, WR
The only senior on this offense-heavy list—Tarver has the size (6'3") to be a tough matchup, and so far, he's shown real playmaking abilities. He's probably outside the conferences "big four" (Ursua, Williams, Johnson, Modster), but he's no slouch either and averages over 10 yards/catch and has scored six TDs on the year.
Dax Raymond, TE
Raymond doesn't quite get the number of targets as Tarver, but he's a BIG (6'5" 250 lbs) target who bails the Aggies out a lot with his receiving skills. He has 841 receiving yards and 3 TDs in his USU career and but hasn't had a really big game since August against Michigan State. I'd say he's due for another one.
David Woodward, LB
The 6'2" 230 lb. sophomore backer had TWENTY total tackles against Colorado State last weekend and now has 113 stops on the year, with 4 sacks, 3 PBUs and a forced fumble for good measure. The kid is alright.
DJ Williams, CB
Williams was a standout JuCo defensive back who appeared on Last Chance U season 3 while at Independence Community College. He earned NJCAA first-team All-America honors at Independence as well as all-Kansas Jayhawk Community College Conference honors. But enough about his past, because his present is pretty good too. Williams has 2 INTs on the season but 10 PBUs...the latter number puts him in the top 3 in the conference. Rypien needs to be pinpoint accurate.
Players NOT to watch
Aggies have NOTHING on the Broncos for injuries, but senior CB Deante Fortenberry is officially out for the year after a devastating injury last weekend against Colorado State.
Keys to victory
Get after Love. The Aggies have some very efficient running backs and some solid receiving targets, but Jordan Love makes the dream work and Weaver and Frazier will need to get after him to somehow get the Aggie offense out of rhythm.
Be safe. Broncos can't play conservative against the wide-open Aggie offense, but they should also be very wary...Utah State has SIX pick-sixes this year and would not have beaten lowly Colorado State last week without two of them.
Win the field-position battle. The Aggies have a good special teams unit and ours is well...not as good. The Broncos have to be able to pin the Aggies deep and keep them there, while also avoiding the same fate on the other side of the ball. Easy peasy, right?
Don't let up. If there's one team to not let off the gas against, it's Utah State...who has been at or near the top scoring offense in the country this year (currently second to only Oklahoma State). Whatever offensive formula they stumbled onto is working, and the Broncos can't afford to leave points off the board.
Don't lose. Seriously...back-to-back championship dreams die with a loss.
Score prediction
Boise State 32, Utah State 27