Game facts
Time: Friday, November 16th, 7:00PM
Location: Dreamstyle Stadium, Albuquerque, NM
Weather at kickoff: 47°, mostly clear
Odds: Boise State by 20
TV: CBS Sports
Radio: KBOI 670 AM
Commentators: Carter "Baa Baa" Blackburn, Aaron "Elizabeth" Taylor, and John "The Griffin" Schriffen
Other facts
1. Running out of options
Curtis Weaver described New Mexico's offense as a "regular offense", which either makes them more dangerous or less dangerous depending on how you look at it. This season, Boise State has done well at taking away the functional facet of one-dimensional offenses, so one would think a run-run-run Lobo offense might be easier to stop (in theory). This season's iteration of the Lobo offense is putting up nowhere near the gaudy rushing numbers of teams past, which is good news...the better news is they aren't putting up many yards through the air either. Maybe the "regular offense" really is preferable after all.
2. Davie's 99 problems
To describe New Mexico head coach Bob Davie as "embattled" might be the understatement of the year. Calling him "lucky" might be the understatement of the century. Back in February, Davie was suspended for 30 days over allegations ranging from assaulting players to obstructing rape investigations. So why is Bobby boy still around? Well, some of the allegations proved hard to..well, prove (he said/he said) but ultimately, I think he's sticking around due to plain old dollars and cents. Davie is under contract through 2021, so for the school to breach the contract, they'd have to prove that he violated laws and/or NCAA or school policies. The school had trouble proving them...can't afford his buyout, and definitely can't afford a breach of contract lawsuit. Many schools would make the determination that the bad publicity and worsening on-field product are worth the buyout, but New Mexico is seriously cash strapped and their hands are kinda tied. If you want to get rid of him at this point, somebody's got to wear a wire.
3. Winning ways
Thanks to 5 straight (kinda stressful) wins, the Broncos now have ensured their 21st consecutive winning season, the second-longest streak in the nation. The only team with a better streak going is 4-5 Virginia Tech (25 straight), so the Broncos might just take over the top spot at season's end. Remember this the next time someone claims they are the "next Boise State". They aren't.
4. I'm telling you—never EVER forget this photo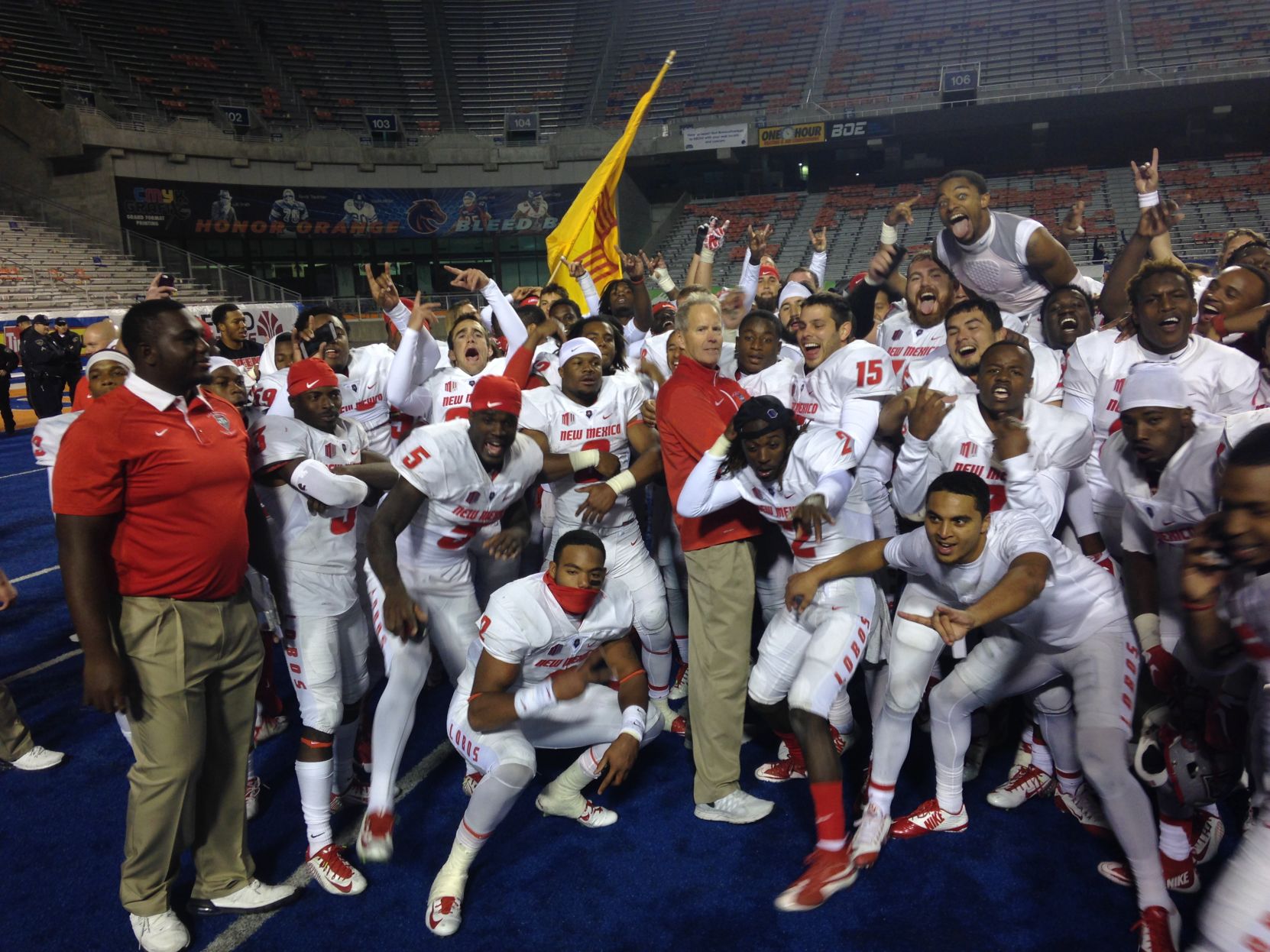 Streaks
New Mexico - Lost 5
Boise State - Won 5
Oooh, New Mexico is bizarro Boise State
Strong bads
Best name on the roster
There are a few good ones lurking on the roster, but I'm choosing sophomore O-lineman Teton Saltes because his name sounds like a line of spa products.
Best picture(s) on the roster
I'm going with the head man, because you could park a Lincoln Continental on his forehead. Davie's recent "troubles" preclude me from feeling bad about making this observation.
Players to watch
Sheriron Jones, QB
The junior signal-caller is a transfer from SEC country—Tennessee to be exact—and though he may not be the most dangerous QB in the conference, he's at a position of some importance...as he goes, the Lobos offense goes. On the year, Jones's TD:INT ratio is just barely above water (13:11), but he's slippery and won't be easy to corral. If Weaver and Frazier get him in their grasp, they'd best not let him go.
Tyrone Owens, RB
This isn't the Lobo offense of old, but they still at least want to run the ball. To that end, Owens has been their best at it this season. The diminutive senior leads the Lobos in rushing attempts (160) and rushing yards (628), and has scored 6 times this season. Alexander Mattison will be the best RB on the field on Friday night, but Mattison doesn't play defense, so when this guy's on the field...get him.
Delane Hart-Johnson, WR
Another senior playmaker for the Lobos, the senior wideout is big (6'3" 220 lbs) and will draw the gaze of Sheriron Jones more often than not. The Broncos survived KeeSean Johnson last week, so I think they'll be okay against Hart-Johnson, but you know how dangerous those hyphenated named fellows can be. Don't let him out of your sight.
Rhashaun Epting, LB
Epting is just a soph but he's leading the team in sacks—sound familiar? No one on the Lobos squad can come close to Epting's 5.5 QB drops and that includes the DEs. I'd say that puts him in the mold of Nevada's Malik Reed, who the Broncos at times, just flat forgot to block. I sometimes forget to eat breakfast, so we're all square there.
Stanley Barnwell, S
Barnwell is the Lobos top-tackler this season (62 stops) and the rangy 6'2" senior is definitely able to get in passing lanes and match up well with most of the Bronco wideouts. He comes from the same JuCo as Cedrick Wilson too, so I'll give him some props for sharing a locker room with greatness as well.
Players NOT to watch
Several Lobos are hobbled and unlikely to play—such as WR Q' Drennan and QB Tevaka Tuioti. Others put their teammate in the hospital. Tight ship in Albuquerque.
Keys to victory
Stop the run. Said it before...this isn't the run-crazy Lobos team of recent memory, but stopping the run appears to be the quickest way to ground their offense (no pun intended—ah what the hell, pun intended!)
Establish the run. Alexander Mattison has finally started to break loose and has over 100 all-purpose yards in the last 3 contests. A 4th straight would make quick(er) work of the Lobos.
Protect the ball. Turnovers are a great equalizer and I think New Mexico needs things equalized to have a shot.
Don't lose. Five in a row. By jove, I think we've got it.
Score prediction
Boise State 42, UNM 17