Game facts
Time: Saturday, October 19th, 7:00PM
Location: Albertsons Stadium, Boise, ID
Weather at kickoff: 62°, clear
Odds: Boise State by 23.5
TV: ESPN2
Radio: KBOI 670 AM
Commentators: Jason "Argonaut" Benetti, Kelly "Gopher" Stouffer, Olivia "Sam" Dekker
Other facts
1. Blew it
You might not recall, but Colorado State blew a 28-3 lead against the Broncos last season in Fort Collins. The furious Bronco comeback featured late game heroics from Leighton Vander Esch and Tyler Horton and also showcased one of the best onside kick recoveries you'll ever hope to see (honestly, I hope to not see many onside kicks). The game was firmly in-hand for the Rams until the wheels came off after the stadium foolishly played "Sweet Caroline"...a rendition punctuated by then-basketball coach Larry Eustachy swaying with co-eds in the student section. An excellent choice.
2. Lui Lui
Boise State has been hit hard by the injury fairy this year, with stalwarts like David Moa and Deandre Pierce looking to be done for the year (and Tyler Horton missing two full games). The offense finally got in on the act with Chase Cord's ACL peacing out, but possibly the most impactful injury of the season might have taken place on Saturday (and that IS saying something). Sonatane Lui has been incredible this season at nose tackle and he got dinged in Reno and might just miss some time. Of course, Bryan Harsin was tight-lipped about the injury and only stated it wasn't a "season-ending" injury, so Lui could be back this weekend or he could be in an iron lung...this isn't an exact science. At any rate, we need Lui healthy...so I'm collecting for a bunch of Mylar "Get Well Soon" balloons to be delivered to the football facility.
3. Spreading the love
Rypien has fallen off a bit in the last two games and the scores show it...but he has been consistently good at spreading the wealth this season. BSU has had eleven different offensive players reach the endzone this season, which is 9th best in the nation. If you add in Tyler Horton's spooky propensity for scoring TDs, that's 12 Bronco players who have reached paydirt. All this and we haven't even realized we have tight ends yet. Imagine that!
4. Time for a flea dip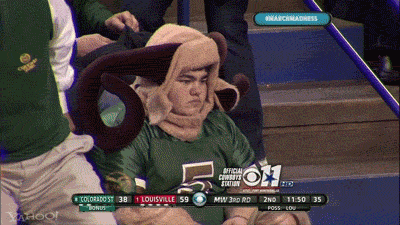 Streaks
Colorado State - Lost 1
Boise State - Won 1 :)
Streeps
Best name on the roster
It's no Weston Steelhammer, but freshman tight end Griffin Hammer still has that certain tool-ish quality.
Best picture(s) on the roster
Senior O-lineman Tyler Björklund might take in some light pillaging after the game.
Players to watch
K.J. Carta-Samuels, QB
This is a familiar name to followers of Boise State recruiting as the Broncos were hot on the trail of "KJCS" when Bryan Harsin first took the reins and we lost long-time QB commit Jalen Greene to USC (now Utah State's leading receiver—wut). Carta-Samuels ended up signing with Coach Pete at UW but found himself stuck behind Jake Browning and ended up grad-transferring to Colorado State in the offseason. He's having a pretty solid year, with 16 TDs and 6 INTs, but has had diminishing returns after his season-opening scorcher (5 TDs) against Hawaii. On the season, he's completing 61% of his passes. Don't get lulled into complacency, this kid can still "spin it" as they say. I also say that.
Izzy Matthews, RB
The Rams have been having trouble establishing the run this season as well (ahem), but if they do go to the ground, Matthews is going to be the guy. He's a capable runner, but might not be the threat that Dalyn Dawkins was. He had a season-high two weeks ago against San José State, but would like to amend that on Friday.
Olabisi Johnson, WR
Johnson might not be able to go this weekend as he apparently suffered an ankle injury last week, and frankly I wouldn't be too bummed if he sat this one out. Johnson represents the Rams ability to reload top-shelf WR talent year in and year out (remember Michael Gallup, Rashard Higgins?) and he's been solid this season with 533 yards and 4 TDs. His 14.8 yards/reception average is the best among Rams wideouts with at least 10 receptions. Shutting him down won't be easy, but may be slightlly easier than stopping this next dude.
Preston Williams, WR
Preston Williams is that dude. The 6'4" 210 lb. receiver transferred from Tennessee and definitely possesses a lot of qualities coveted in his former conference. Williams has proven very difficult to stop this year (671 yards, 7 TDs) and I'm not sure we have any DB that is a favorable matchup...gonna have to go to the source and shut down the person tasked with delivering him the football. Sorry, K.J.
Josh Watson, LB
The senior leads the team in tackles with 73...which is 24 more than the next closest Ram defender. He's also got two TFLs and would very much like to pad that total on Friday. If our O-line doesn't come alive, I think he definitely will.
Players NOT to watch
Olabisi Johnson may not be able to go and starting DE Emmanuel Jones is also questionable. Two key O-lineman, our Viking pal Tyler Björklund, and Colby Meeks could also be just watching.
Keys to victory
Discipline. Boise State's defense was supposed to have zero weaknesses. That's not quite true—and things are exacerbated because of the notable absences of players like David Moa and Deandre Pierce. Broncos have to get back to the bend-don't-break defensive mentality. Too many big plays.
Establish the run. Pretty please?
Protect the ball. The Nevada game didn't have to be close...but 4 Bronco turnovers made it so. Only one of Rypien's 3 interceptions was ALL his fault, but a fumble by John Hightower also gave Nevada life. Don't do this!
Don't lose. I'd like to point out that the Broncos are 4-0 this year when employing this tactic. 0-2 when they haven't.
Score prediction
Boise State 42, Colorado State 21