Seven days, just seven. Breathe in, breathe out, and try to sleep at night. Today we highlight Boise State's 9th year senior: D.J. Harper
#7, D.J. Harper, Senior, Running Back
Stats:
Height: 5'9''
Weight: 205 pounds
High School: Cypress Creek High School, Cypress, Texas
How'd he get to The Blue?
Harper was a two sport athlete in high school. Aside from being a three year letterman in football, Harper lettered twice in track and field. Harper was a three year unanimous all district selection at running back. As a senior Harper rushed for 1,570 yards and 21 touchdowns on 212 carries. Harper did damage as a receiver out of the backfield, catching 18 passes for 160 yards. His junior year Harper logged 1,088 yards and 10 touchdowns on 166 carries and added 16 catches for 80 yards.
Nickname:
"Smiley"
Look- a-like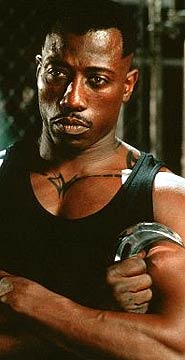 Blade
2012 Prospectus
If it seems like Harper has been in the program for more than the average Bronco, you are correct. Harper was granted a 6th year of eligibility because of two season ending knee injuries. For those of us on obnug that may not be up to speed on the career of D.J. Harper allow me to bring you up to speed. Harper got some carries as a freshman in 2007, then in 2008 was part of a crowded backfield that featured fan favorite and incumbent Ian Johnson, Jeremy Avery, and Harper. With a backfield that deep Harper still did not see many carries despite showing signs of promise. Then in 2009 Harper earned the starting job and came out of the gate running hard, very hard. He cut through Oregon's defense and looked to be well on his way to a big year for BSU. He then tore his ACL in the valley in a highlight filled game against Fresno St. Rehab for a year, and Harper came out against VA Tech and looked as if he hadn't missed a beat. Third game of the year was a re-tear of the same ACL. Rehab for a year, then Harper came out again looking as if he hadn't missed a beat and became a very crucial part of the Bronco rushing attack. If you could mix in bad luck, with bad timing, tons of work ethic, tremendous talent, and strong leadership you get D.J. Harper. Had we not had a first round draft pick last year in Doug Martin, Harper would have been the feature back. This year, with Martin gone, Harper will be called upon to carry the load. He had a great fall camp and looked very good rushing the ball in the fall scrimmage. What a lot of people underestimate about Harper is his pass catching ability out of the backfield. Harper has great hands and must be the mentor to the slew of young and potentially great running backs that BSU has in its ranks. Look for D.J. to get plenty of carries against Michigan State, and must have a big game in order for BSU to pull off the upset.
Completely made- up fact
D.J. once had a staring contest with Medusa..... she lost.....