The Broncos are coming off a dominant-everywhere-but-the-scoreboard win over Tulsa, and Hawaii is licking its wounds from a demoralizing loss to Idaho. Both teams need a win, but only one will get it (hint: it won't be Hawaii). The Broncos have enjoyed a colorful past with the Warriors and always seem to have the quirkiest of games within the litter-filled confines of Aloha Stadium. Will Saturday's game keep our attention past midnight or will McMackin's Warriors get lei'd out early? We'll know the answers to these pressing questions at 9 PM on Saturday, but in the meantime, there's a lot to be learned about this week's foe (don't worry, Kellen Moore already knows their defense intimately)...so let's all give the Rainbow Warriors a closer look through the magic of factoids and childish jokes. It's time to get to know your enemy, Bronco Nation...so take notes
Ten things Bronco fans probably didn't know about Hawaii or their litter-strewn lair

10) In 1926, Hawaii coach Otto Klum's squad scored 101 points twice against opponents "Field Artillery" and "Heilani AC". Interestingly, 101 points is what June Jones' 2007 squad would've scored on San Jose State, had field conditions not been so poor.
9) The University of Hawaii's motto is Ma luna aʻe o nā lāhui a pau ke ola ke kanaka, which means "Above all nations is humanity" in the Hawaiian language. It also means "Your mother has a smooth forehead" in Klingon.
"mele kalikimaka"
8) In 1923, after defeating Oregon State on Moiliili Field, a rainbow appeared, causing local reporters to start calling the UH football team the "Rainbows". Hawaii fans are eternally grateful that reporters didn't see a dog peeing right after that game as they were an awfully impressionable lot. Hawaii teams were known as the "Rainbow Warriors" until they dropped the "Rainbow" from their name and logos in 2001 (only 23 years after it became a symbol of the gay pride movement...way to get right on that)
7) The official University of Hawaii magazine is called Malamalama. If you feel like browsing their archives, you might want to check out the December 2002 issue of Malamalama that featured an interview with the Dalai Lama and Lorenzo Lamas, and a fascinating look at indigenous Llamas in the Bahamas.
6) The University of Hawaii won the 2004 Intercollegiate Sailing Association National Championship. The championship trophy resides in the "Championship trophies that no one knew existed" case.
5) The Medical School of the University of Hawaii, the John A. Burns School of Medicine, is ranked 12th in the nation for geriatrics. Now you know why Dick Tomey and Chris Ault visited the campus in the offseason.
4) Departed star wideout Davone Bess (now with the Miami Dolphins) was recruited by June Jones' henchmen while serving a 15-month sentence at a juvenile facility. Why June Jones had recruiters lurking at prison-sponsored flag football games is obvious to anyone who's ever watched The Longest Yard.
"Go long, Davone"
3) Hawaii running back Thomas Kaulukukui's number (32) is the only number to date that has been retired by the UH football program. Kaulukukui, whom legendary sports writer Grantland Rice dubbed "Grass Shack",  was only 5'4" and weighed a whopping 145 lbs. In a 1935 game against UCLA, Kaulukukui returned a kickoff 103 yards for a touchdown...probably by running through defenders' legs and set to the music of Yakety Sax.
2) UH Head Coach Greg McMackin authored a book, titled Coaching the Defensive Backfield, that is currently in its 7th printing. The book apparently depreciates in value rapidly as a new copy will run you upwards of $120 dollars and a used copy will set you back about a buck and a half. McMackin's newest tome, Big Mack's Guide to Public Speaking, was scheduled for a summer 2009 release but was put on hold for some reason.
1) Singer/Actress Bette Midler attended the University of Hawaii. Did you ever know that Timmy Chang was her hero, as well as everything she would like to be?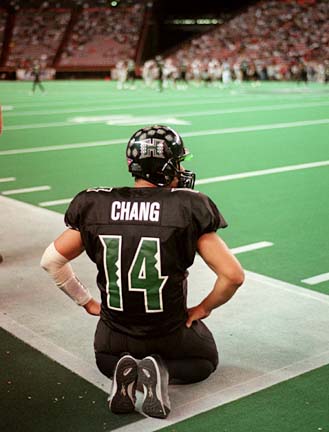 A Chang will do you good