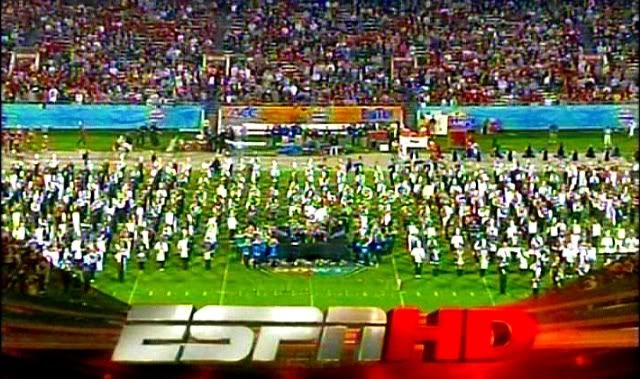 Well, the semi-drought of college football is almost over. Welcome to the pupu platter du jour of bowl games. The sponsors are obscure, the teams aren't very good, and we really don't know much about any of the teams to make them interesting on their own. Enter spreads.
My friend Chad, who some may remember from our trip to Birmingham for last year's NCAA tournament, has teamed up with me again for our second annual bowl pool. There's a slight buy-in and and a nice payout if we do well. It sure adds a little bit of excitement to a Troy vs Southern Miss matchup. I'd like to think I have a slightly better feel for spreads after picking WAC games all year, but I felt just as confounded as ever going through some of these matchups.
Also, we're getting close to the deadline for entry into OBNUG's bowl pick'em group.
Kevan threw out the challenge of 75 a few days ago. We're close to 60 right now so keep nagging your coworkers/neighbors/mailman about it.
Let's get to the underwhelming games.
EagleBank Bowl: Wake Forest (-3) vs Navy
Yes, this is the inaugural EagleBank Bowl. Apparently the fine folks and EagleBank saw that if the San Diego County Credit Union could sponsor a bowl, anyone could. If that's not the American dream in action, I don't know what is. As for this matchup, I think we can all let out a collective yawn. These two teams already faced off earlier this year with Navy coming away with the win. Way to think outside the box, EagleBank. Let's take a quick peek at the excitement building up. EagleBank Bowl executive director Steven Beck, illuminate us:

"It's crazier this week," Beck said. "The momentum, it's like a roller coaster, only it's only downhill. There's no way to stop it."
If that's not a ringing endorsement, I don't know what is. I'm going with Wake Forest based on the revenge factor and Navy losing to Notre Dame. That shouldn't be forgotten.
Pick: Wake Forest
New Mexico Bowl: Fresno State (-3.5) vs Colorado State
Yep, the New Mexico Bowl has so much clout and history they don't even need a sponsor. Kind of like the Rose Bo - scratch that. They're "presented by CITI." Colorado State is excited to be there as evident by their ticket sales:

CSU has distributed 4,300 tickets, more than 1,000 of which were bought for donations. Fresno State, which has a reputation of traveling well, had sold only 600 seats as of Monday.
I guess the buzz from that almost-win versus USC in 2005 is starting to wear off for Bulldog fans. I'll take Colorado State's excitement over Fresno State's apathy any day.
Pick: Colorado State
MagicJack St. Petersburg Bowl: South Florida (-12.5) vs Memphis
This bowl game doesn't even have a website. It's sponsored by this MagicJack (go ahead and watch the inspiring video of the inventor's daughter telling us how she named her two puppies "magic" and "jack" after her dad's invention, don't forget the tissues). From MyFox Tampa Bay:

Company spokesman Mel Arthur says buying the naming rights "......really gives us a great legitimacy, so if people look at MagicJack they would say, well, this isn't some one-off gadget, but it's actually a much bigger concept."
Yeah, nothing says "legitimate" to me like home movies on the home page. This is another inaugural bowl, which is amazing when everyone's whining about the economy. This is a big spread but I'm going with South Florida due to close proximity and Matt Grothe.
Pick: South Florida
Pioneer Las Vegas Bowl: Arizona (-3.5) vs BYU
Now we're talking about a bowl game destination. The only downside for the teams is this game being played December 20th instead of December 31st. Well, that might have been good thinking by bowl organizers. Apparently it gets cold in Las Vegas. Who knew? Then comes this interesting little nugget from the Las Vegas Sun:

For many of the Wildcats, Wednesday's snowstorm was the first time they saw the white precipitation.
Let's see, BYU is 2-0 versus the Pac-10 so far this year with a 59-0 beatdown of UCLA. Arizona's schedule is littered with wins against Idaho, Washington, Washington State, UCLA and a pesky loss to Stanford.
And Arizona's giving 3.5 points?
Let's see - I'll take the points.
Pick: BYU
R+L Carriers New Orleans Bowl: Troy (-4.5) vs Southern Mississippi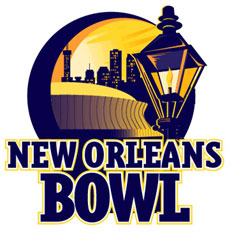 New Orleans, you've already got the Sugar Bowl. Do you really need another bowl game? The logo seems to have street lamp in it. I'm so confused. Troy players are psyched:

Troy players will descend on New Orleans today, spend much of the evening enjoying Bourbon Street and start on-site preparations for Sunday's New Orleans Bowl.
Most will carpool and save some of the monetary reimbursement - allowed by the NCAA - for, ahem, other uses on the five-night trip.

"I'm ready to go have fun, get the job done and have more fun," cornerback Jorrick Calvin said last week. "Everybody knows what the goal is down there."
Looks like priorities are in order. Like the older players doling out wisdom to the younger ones
If a "female" with large hands, large feet and an Adam's apple wants to talk ... well, walk away fast.
This is going to end well. I think I know who I'll be taking...
Pick: Southern Mississippi
San Diego County Credit Union Poinsettia Bowl: TCU (-2.5) vs Boise State
So, how happy are the organizers/tellers of the San Diego County Credit Union Poinsettia Bowl (seriously, we can't get some initials)? Let's have executive director Bruce Binowski explain:

"I've had my fingers crossed for a long time. ... This puts the Poinsettia Bowl on the map. We're going to really make our mark."
Yeah, I'm sure they'll be landing Top 15 teams for years to come. Teams will flock. I'm not going to get into the details of this matchup. Both teams will be fired up to play. It should be a great game on par with the Fort Worth Bowl in 2003. I was worried that Boise State would come out as 7+ point favorites in this game but was pleasantly surprised to see TCU favored by 2.5. That will make the game so much easier to watch as I can just root for Boise State to win instead of by how much. It's a great change of pace.
Pick: Boise State
Sheraton Hawaii Bowl: Hawaii (-1.5) vs Notre Dame
Do you think that Charlie Weis and Greg McMackin have dinner one night? How high is that tab? Weis does seem to be taking the right approach to everything:

Coach Charlie Weis hasn't been around much because of recruiting in places such as Hawaii, California and Florida. He also went as far as New Jersey to get opinions about his knees. The left knee was injured when he was hit by defensive end John Ryan during September's Michigan game. The right knee later began bothering him. The verdict – Weis might need total reconstruction on both knees.
I could think of a different verdict. Such as losing 100 pounds. Also good to know he's gallivanting around to the country's warmest recruiting destinations since recruiting has always been his downfall. Execution on the field is obviously solid, he just needs better athletes to execute his plays. Combine Notre Dame's underachieving with Hawaii's uncanny dominance at home and we'll give the point and take Hawaii. Now watch Jimmy Clausen unleash his locks and throw five touchdowns or something ridiculous.
Pick: Hawaii
Regular Season (65-45-2)