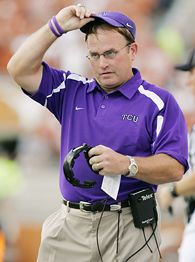 We are reminded of Super Bowl XXXI between the New England Patriots and Green Bay Packers. In the weeks leading up to that Super Bowl, New England head coach Bill Parcells began entertaining offers to join the New York Jets. Naturally, he said there was nothing there, but the whole scenario mushroomed into a huge distraction that followed the team right up until game time. The Patriots lost, 35-21.
On that note, TCU head coach Gary Patterson appears to be interviewing today with Auburn for their coaching vacancy.

TCU coach Gary Patterson is scheduled to meet with Auburn on Thursday, a person briefed on the meeting told ESPN's Joe Schad. Patterson spoke with Clemson and Tennessee previously.
It may end up being nothing, but it is already something, which could mean everything. You take your time at Auburn there, Gary Patterson. We're sure your team doesn't need you for bowl preparations in the meantime.
Read more: Names emerge in Auburn search [ESPN.com]