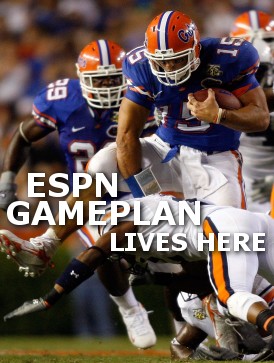 Out-of-towners rejoice! Boise State's rivalry game against Idaho has been added to the ESPN Gameplan schedule this week. For now.
Last week, the Worldwide Leader pulled a fast one on Bronco fans when they pulled the USU game off of Gameplan due to an overwhelming amount of Brent Guy. Might similar circumstances befall the Idaho - BSU game once ESPN realizes Robb Akey is prominently involved? With UAB at Tulane looming unaired on the schedule, anything is possible.
Other potential Gameplan victims include:






Toledo @ Western Michigan


Middle Tennessee State @ Western Kentucky


Duke @ Clemson


Rutgers @ South Florida





You'd better watch your back, Blue Raiders and Hilltoppers.
You can tune in to the Vandals - Broncos game at 3:00MT on KTVB, ESPN Gameplan, ESPN 360, and KIDO. Hopefully.
Read more: ESPN college football schedule [ESPN.com]