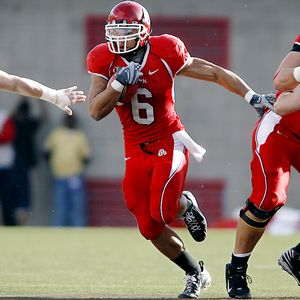 The latest BCS standings came out yesterday, and the Broncos are in an all-too-familiar place: looking up at Utah.
This was supposed to be the week that the fortunes changed for the Broncos. Utah was supposed to lose big to TCU, and Boise State was supposed to take the non-BCS favorite crown away from the Utes. Funny how an ill-timed prevent defense changes everything.
Now we find ourselves as fans at the same place we have been for the past month or so: helpless, and yearning for the wisdom of Tom Scott to put words to our pain.

Watching the BCS standings every week is an odd experience for Boise State this year. It's very flattering to be moving up to No. 9, to be sure. But it's accompanied by an empty feeling, as the Broncos' destiny in the postseason is controlled by everyone except them, it seems.
At least someone understands.
The Broncos moved up to No. 9 in the BCS, the AP, the USA Today, and the Harris Polls, but rather than be excited about one of the highest rankings the team has ever achieved, we find ourselves rather depressed that things aren't working out the way we want them to work out.
Even worse, the Utes' remaining schedule has turned us into BYU fans.
This really is a no-win situation.

Read more: Five arms can really add up [Scott Slant]
Rankings index [ESPN.com]