We are big fans of Ian Johnson. Remember that, no matter how hard these next few paragraphs try to convince you otherwise.
Johnson gave us one of the greatest moments in Boise State history with his Statue of Liberty two-point conversion. He had one of the finest seasons a Bronco player has ever had when he rushed for over 1700 yards and 25 TDs his sophomore year. He has been a leader, a team player, and the heart and soul of the Broncos all season long.
And now we're not really sure what to do with him.
The San Jose State game made it apparent that Jeremy Avery was ready for a starring role in the Bronco offense. He turned in the best rushing performance by any Bronco to date, and he did so against one of the best defenses that Boise State will face all season. Johnson, on the other hand, struggled to find daylight until Avery softened up the "D." Worse, he coughed up the ball on the goalline, turning a blowout into a nailbiter.
So Avery in, Johnson out. Right? Not so fast.
Putting Johnson in a role of No. 2 back, or even No. 1B, just won't fly, and here are the reasons why:



He is practically untouchable.


David Augusto would have to go on 24-hour suicide watch.


We need to come to grips with the fact that Johnson's place on the depth chart might not (and, it could be argued, should not) change for the rest of the season. His place in the offense, however, is up for debate.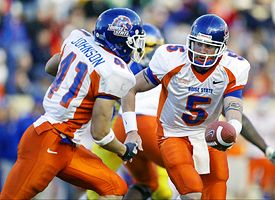 Running back is one of the greatest areas of depth on the Bronco team with the likes of Johnson, Avery, D.J. Harper, and Doug Martin jockeying for playing time. Johnson has admitted in past games that he was not able to earn goalline carries or be included in certain packages because he was outplayed in practice. Bronco coaches obviously aren't afraid to go with the most effective back.
And if our football-watching skills are right, Johnson is no longer the most effective back.
The first six games of the season were pretty much a wash. No back stood out because there was little opportunity to stand out (oh, hi, offensive line!). But Saturday's game in San Jose was different. There was an obvious winner in the running back derby against the Spartans, and it wasn't the one waiting patiently for blocks to set up that were never going to be set up.
We mentioned on Monday that Avery fits the offense better, assuming that the offense will continue to be a one-back, missed-blocking-assignment offense. Johnson seems to work better with a fullback in front of him, or at least with a snap from under center. He needs the chance to get up a head of steam and build momentum in order to bust through tackles and break long runs. Avery just needs a sliver of daylight.
So we're back to the question of what to do with Johnson. Here's what we think: use him to spell Avery, keep him in on passing situations as a receiver and blocker, let him score some TDs on goalline plays.
Johnson is still a valuable part of the Bronco offense, and the team would not be successful without getting him enough touches.
He's not suddenly a bad football player. He's just suddenly in a new role.