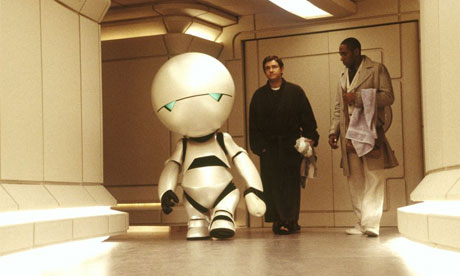 We are of the mind that computers are pretty smart. They tape Friday Night Lights for us every week. They clean our carpets every other Wednesday. They heat Hot Pockets.
But they're still learning this whole Boise State thing.
The Broncos debuted at No. 12 in the first BCS standings, one spot behind fellow non-BCS school Utah and two spots ahead of TCU. The highest ranked non-BCS school in the top 12 of the BCS rankings gets an automatic entry into one of the BCS bowls, which automatically makes us fans of every bad Mountain West team on the Utes' and Horned Frogs' schedules.
Utah we're not too concerned about. Here's their schedule over their remaining four games:



11/01 @ New Mexico


11/06 vs. TCU


11/15 @ San Diego State


11/22 vs. Brigham Young


We cannot, in our wildest imaginations, see them escaping that schedule without a loss. We imagine it comes against TCU on a short week or against a vengeful BYU to close the season. Or both.
TCU has us a little skittish, though. Here's their sched the rest of the way:



10/25 vs. Wyoming


11/01 @ UNLV


11/06 @ Utah


11/22 vs. Air Force


Utah is obviously the Horned Frogs' toughest game, but those 16 days off before Air Force could be a doozy, too. Seriously, though, we shouldn't even be discussing TCU as a possible non-BCS BCS team. First off, they have a loss. Secondly, they beat Colorado State 13-7. Third, their non-conference schedule included Stanford, Southern Methodist, and Stephen F. Austin. Stephen
F(!)
Austin!
Of course, we can waste much of our breath opining about the inadequacies of BSU's competition (and we just did), but we'd rather focus on the Broncos themselves. Certainly, that's what Coach Pete is telling us to do through telepathy and sensory clues in the local media. If the Broncos take care of their own business, everything else will work itself out.
Boise State has played two fewer games than both Utah and TCU. Add two more wins to the Broncos' schedule, and they will probably take the lead over their fellow non-BCS schools by a wide margin. Making too much out of the BCS rankings at this point would be foolhardy.
But it would also be typical of a sports fan.
So don't worry if you find yourself rooting vehemently against the Utes and Horned Frogs over the next few weeks. We're sure we will be. Just remember that even if our negative cheering, voodoo pin cushions shaped like Kyle Whittingham, and TV yelling go for naught, the Broncos will be alright.
The computers will learn eventually.
Read more: BCS standings [FOXSports.com]
Rankings index [ESPN.com]