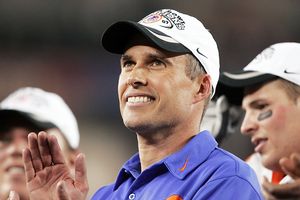 Boise State's first ever win over a BCS team on the road has earned the Broncos a lot of praise - from David Augusto, Tom Scott, Joe Hughes, and more. Now, you can add Jim Rome to that list.
Following the win over Oregon, Coach Pete will be appearing on Rome's radio show today (10:00am to 1:00pm on 1350 KTIK). Being that Coach Pete is our favorite coach, we are stoked to be able to hear him interviewed. And being that the Jim Rome show was our favorite show growing up, we are equally stoked that Rome will be doing the interviewing.
And being that we are so stoked, we are going to live-blog the whole thing (also, being that we took an early lunch).
Follow along below as we comment on Coach Pete's answers, Jim Rome's questions, and the clones' response. Oh, and if you're not familiar with the Jim Rome show, you should probably read up at the Rome website; things could get confusing otherwise.
To listen to the Jim Rome show, visit www.ktik.com and click on "Listen Now."
Live-blog commences in 3 ... 2 ... 1 ...
10:10: Rome just announced that Coach Pete will be on in the second hour. He also called the show "tremendous," which he does every show but we feel he really meant it this time.
10:23: Well, this is kind of boring since Coach Pete isn't on yet. Go get some work done, everybody. We'll see you back in an hour.
11:03: Alright, Coach Pete should be on anytime now. While you're waiting, go check out our post over at Addicted to Quack. We're not sure they're going to like it very much.
11:08: Cool, he'll be on the next segment. Should be only 10 minutes or so.
11:20: Yes, Coach Pete is up.
11:21: Obligatory Fiesta Bowl reference.
11:22: First question out of the gate is about Oregon. Naturally. Second question is about Mike Bellotti. Obviously. Come on, Rome. Get to the good stuff! Blue Angels! Kellen Moore! Mohawks!
11:23: Coach Pete is nothing but complimentary of Bellotti - so far, just as a person and not as a coach. They sound like pretty good friends. We are jealous.
11:24: No false starts for the Bronco offensive line. Great stuff.
11:25: Kellen Moore question! Rome called him unflappable.
11:26: "He just plays the game like he's in his backyard." We're pretty sure Brian Murphy already used this line.
So far, lots of softball questions for Coach Pete. How big of a win was Oregon? Are you and Bellotti still friends? Was Autzen that hard? Is Kellen Moore really that good? Sheesh, we could be answering these questions.
11:27: "Boise and Boise, Idaho, is the best kept secret in the West." Thanks, Coach Pete.
11:28: Obligatory Ian Johnson joke. "It seems like he's been there ten years," said Rome. Groan.
Rome asked about how Johnson would do in the NFL. Coach Pete skirted the question well enough, choosing instead to focus on character and leave the onus on scouts. Very classy.
11:29: Coach Pete would prefer that everyone talks about the other BCS busters and not the Broncos. "It's all about beating Louisiana Tech next Wednesday." OK, whatever you say, Coach Pete. Sure, we believe you.
11:30: And that's it for the interview. We're not sure Rome really researched this interview at all, considering he asked questions that he could have arrived at after simply reading the ESPN Oregon game recap once.
Oh well. It's good publicity for the program, and Coach Pete sounded like he knew what he was talking about. As if he could sound any other way. We just would have liked to hear some more hard-hitting questions...like "What did Bush Hamdan do on the trip back from the Oregon game?"
Now we get to prepare for the Vinny Perretta live chat. This day just keeps getting better and better!