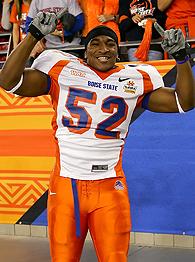 The defense is typically ahead of the offense during the first few days of fall camp. But six-interceptions ahead? That's just showing off.



According to the reports from the morning session, the Boise State D got to Bronco quarterbacks six times, which is nearly half as many interceptions as the defense had all of last year. Who all got a pick? Here's the list.


Derrell Acrey


Brandyn Thompson


Derrell Acrey again


Keith McGowen


George Iloka


Aaron Tevis


Chadd Cripe


Of note from the various camp breakdowns,
Dave Southorn reports
that Jeremy Childs still has it,
Cripe reveals
that Andrew Woodruff has lost 35 pounds, and
Brian Murphy picks a fight
with Graham Watson. Perhaps we can get media credentials to that.
If you are curious about hearing an Ian Johnson interview,
the Press-Tribune has the audio up on its site
. We'll be updating this post with any breaking news throughout the afternoon.