Welcome, Bronco fans, to OBNUG's NFL Draft live-blog. I'm Kevan, and I'll be taking you through today's picks. First, there are a few things you should know about me before we begin.


I am a die-hard Patriots fan.
I may fall asleep during some point of the first round.
I cannot stand Chris Berman.
Stuart Scott interviews make my head hurt.
I think Clady will fall to the Ravens.
I'll drag this live-blog on long enough to see Ryan Clady get drafted. No promises after that.
Enjoy.
12:45
Coverage starts in a few minutes. I could not be more excited! Word is that the Rams are going to take Chris Long from Virginia with the number two pick, rather than LSU's Glenn Dorsey. Here's what I don't get: Dorsey was the consensus number one throughout the college football season. Now, he will be, at best, the third pick? I think the three months before the Draft gives teams the opportunity to overthink their picks. Remember Adrian Peterson last year? Yeah, exactly.
I'll get off my soapbox now...but only because my Pop-Tarts are ready.
12:57
Sure hope Miami doesn't use their whole ten minutes to make their pick.
12:59
Will Jake Long's nose get its own signing bonus?
1:01
Tacky suit update: Keyshawn Johnson is in the lead.
1:03
We are under way! The Dolphins waste no time in selecting long, and ESPN wastes no time in jumping to commercial. Seriously?! A commercial break 45 seconds into the NFL Draft?! I could not find the NFL Network fast enough.
1:05
I still cannot get over the size of Jake Long's nose. It is Jim Halpert big!
1:07
Am I the only one expecting to see Teri Hatcher in the Chris/Howie Long family? She is nowhere to be seen. Suzy Kolber, get on this!
1:11
Clady's picture has popped up along the side of the ESPN broadcast with the Boise State logo. That is some serious exposure that we aren't used to having. It is pretty cool.
#2: Chris Long to the Rams.
1:14 NFL Network's Deion Sanders seems to be getting exclusive interviews with the draftees. This could provide some great unintentional comedy. We'll keep tuned.
1:16 Adam Schefter just reported Matt Ryan to the Falcons. Ugh.
1:17 The Chiefs will have either Gholston or Dorsey to choose between when they pick at No. 5. If they truly want a defensive lineman over Clady, then they will have their opportunity.

#3: Matt Ryan to the Falcons.
1:18 Now might be a good time to point out that I'm wearing my Tim Couch jersey.
1:25 OK, couple of things. First of all, Matt Ryan is wearing a sweater vest. Bad choice. Second, I'm pretty sure good teams don't draft quarterbacks this high any more. Third, will the Raiders be able to resist McFadden? Fourth, please God let Dorsey fall to the Patriots.

#4: Darren McFadden to the Raiders
1:29 Interesting, Oakland. I wonder how much Adrian Peterson had to do with this pick. He fell last year and was the best rookie in the league; McFadden can do the same thing.
1:31 Whoa, McFadden's family is rushing the stage! Way to represent.
1:32 The Chiefs are the first team that experts thought Clady might go to, but with the way the draft has gone, I don't see him going here. The real question is who might trade up to get Dorsey or Gholston?

#5: Glenn Dorsey to the Chiefs
1:37 The Jets are on the clock. Care for a re-do on D'Brickshaw Ferguson?
1:38 Clady prospect update: the Patriots? You have to think that Gholston will go to the Jets, and the Patriots always love their value picks. Clady could go No. 7.
#6: Vernon Gholston to the Jets
(that's a picture of Mike Mamula, by the way)
1:44 And the green room just went 6-for-6! Gholston is one of those workout warriors who didn't have a stellar career, but does have stellar muscles. I believe Chris Mortensen just referred to him as having a "Tarzan body." Reaching for defensive linemen in the first round reminds me of this:


1:47 There doesn't seem to be a camera at Clady's draft party. On the other hand, we did get to see Branden Albert's wardrobe sponsored by American Eagle.
1:49 ESPN could have gone without mentioning the Patriot's Super Bowl loss. Jerks.
1:50 Yes! Patriots trade their pick! I love this team!
#7: Sedrick Ellis to the Saints
1:55 Ryan Clady is Mel's best available and Jacksonville just moved up. Could this be it?
1:56 I'm about to get my Cheetos on.
1:58 DeSean Jackson cam. That might be there all day.
#8: Derrick Harvey to the Jaguars
2:02 I guess Clady will be going to Denver at #12 now, unless some more trades keep coming. That will be a good fit. Let's just hope he doesn't fall even further.
2:05 Does Chris Berman even know how football works? His take on Derrick Harvey to the Jaguars was how exciting it will be when the Jags face the Ravens in Week 17 because it will be Harvey versus Troy Smith in a rematch of the 2007 BCS championship.
I sure hope Clady goes soon.
#9: Keith Rivers to the Bengals
2:09 Would it have killed Rivers to wear something with a collar today?
2:11 Alright, Patriots back on the clock! I could get used to this...unless ESPN uses it as an excuse to show more Super Bowl highlights.
#10: Jerod Mayo to the Patriots
2:15 A linebacker who runs a 4.54? There's something the Patriots sure don't have.
2:16 Berman just made a terrible Mayo pun. I am so done with ESPN right now.
#11: Leodis McKelvin to the Bills
2:20 Is it Ryan Clady time? I can feel it!
2:21 Where is Todd McShay during all of this? Sitting in his living room having pretend arguments with Mel Kiper? First Teri Hatcher, now this. What are those journalists doing?
2:23 Clady getting love on NFL Network right now.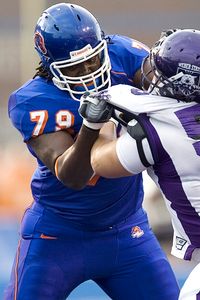 #12: Ryan Clady to the Broncos
2:25 Clady to the Broncos! Excellent. He'll be a great fit there. Denver has some of the best o-line coaches in the league, and he will have every opportunity to succeed.
2:28 The Boise media will eat up the "once a Bronco, always a Bronco" line. We'll go ahead and put the over-under on that phrase at 15.
The studio coverage of Clady's pick was absoutely terrible. After Mel Kiper did his spiel, Chris Berman changed the topic to Jay Cutler's quarterback skills. Seriously?! What a joke of a broadcast. Mort finally brought things back together after Keyshawn and Steve Young yukked it up about Cutler for awhile.
I caught the end of the NFL Network coverage, and they were showing how Clady blew several blocks in the Hawaii game. They were kind of tearing him apart.
Also, no one had a camera at Clady's party. Hopefully David Augusto will come through for us tonight on KTVB News at 10.

That does it for OBNUG's NFL Draft live-blog. My personal highlights: Roger Goodell's opening fistpump, Matt Ryan being a complete waste, the Patriots trading down, and Clady going to a solid team. Lowlights: every time Chris Berman opened his mouth.
We'll try to post video this weekend of the Clady pick, and we'll break things down for you next week. Feel free to keep the conversation going in the comments section, especially now that the Lions have a chance to reach for a wide receiver.