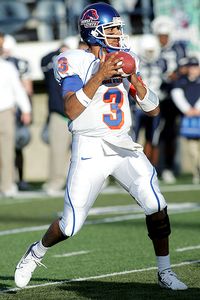 ESPN.com's Adam Rittenberg focuses his weekly non-BCS column on Boise State's quarterback contest, with predictable results.

(Tharp's) successor will come from a pool of four candidates: senior Bush Hamdan, junior Nick Lomax, sophomore Mike Coughlin and redshirt freshman Kellen Moore. All four have received equal repetitions this spring, but Hamdan and Moore have emerged as the early favorites.
Obviously, he has not talked to
Phil Dailey
.
Non-BCS notebook
[ESPN.com]