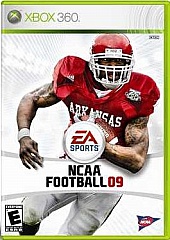 The frantic Fiesta Bowl finish propelled BSU QB Jared Zabransky onto the cover of NCAA Football 08. Beating Utah State by 56 did not do the same for Taylor Tharp.

Darren McFadden will grace the cover of EA Sports' NCAA Football 09, which will be released this summer. The XBox 360 version will have the former Arkansas RB as its featured athlete, but the PS3, PS2, and PSP will each have their own cover athlete.

Here is a look at some features:

NCAA Football 09 will unveil the all-new Break Away Animation Engine which allows gamers to break in and out of moves giving the user more direct control as well as instant influence and responsiveness on the field. At its core, NCAA Football 09 will focus on wide-open collegiate style gameplay featuring unique animations that you will only find on college football Saturdays. This style of gameplay will allow agile backs like McFadden to show off their break out speed and maneuverability in-game.
I guess "Tharp" and "breakaway" aren't often used in the same sentence.
Buster Bronco is in the running for a mascot cover for the Wii version. Vote
here
.
NCAA Football 09 to have platform-specific covers
[Pasta Padre]