Here's a quick look at some news items from the past couple of days:



Brian Murphy talks shop with BSU linebackers. [Idaho Statesman]
Breaking news from Murph Turf: the BSU linebackers were not all that good last year.



Hawaii cornerback's girl problems net suspension. [Yahoo! Sports]
The Warriors will be without the services of CB Keenan Jones for the foreseeable future. Would Colt Brennan have let this happen? We think not.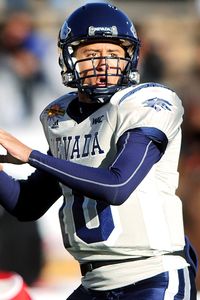 Nevada's quarterback race gets ESPN's attention. [ESPN.com]
The Wolfpack QB duo of Kaepernick and Graziano were featured on the front page of ESPN's college football section for the past two days. Does the Worldwide Leader know they don't play for Fresno? Usually that type of honor is only reserved for over-hyped Bulldog news.