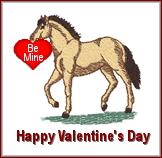 Happy Valentine's week, Bronco fans. You significant others here at OBNUG are still sorting through an exciting LOI day, so we'll have lots of good info for you this week. Here's what else we think will be happening:
Fresno State and Boise State, seeing the less-than-stellar recruiting classes of fellow WAC members, will secede from the conference and form the Super WAC.

The BCS will fail to recognize it as a major conference.
With so many talented linebackers on the team, Bronco coaches will switch to a 1-5 defense, becoming the first team to deploy only one defensive lineman on a majority of defensive snaps.

That defensive lineman will be Ryan Winterswyk in a fat suit.
Sean Renfree will arrive at Duke and, like Ron Burgundy in the bear pit, immediately regret his decision.