Welcome friends, enemies, homers, and douchebags Craig James. It's our weekly trip to why I'm far too arrogant and pithy to think San Diego State holds and reasonable chance at upsetting the Broncos. we talk about why I'd like to see Rocky Long get hit by a bus, and we look at the douchieness of Craig James, and how I intend to fight it. Even if just a little bit.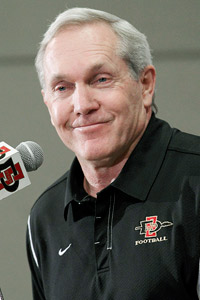 Rocky Long thinks a lot of himself. If the picture above isn't enough, then tune in to the weekly press conference video on the Mtn. and watch him effortlessly disregard any and every comment or question. He's dismissive and arrogant. We have a lot in common, him and I. But where we differ is in the things that really matter. Rocky Long HATES The Blue, so therefore, I Hate Rocky Long.
"I think they ought to get rid of that blue turf. I think it's unfair," - Rocky Long during MWC spring tele-conferences
I don't have any credible evidence, but, Rocky Long was in my opinion, the impetus behind the MWC's decision to ban the Blue-on-Blue, even before Boise State officially joined the conference. And for that, he deserves our ire. It's only right that the Broncos put this team down quickly and with extreme prejudice, like they're vandals;
I don't call you sun 'cause you shine, I call you son, 'cause you're MINE!
Count me among the group that is not at all impressed with San Diego State. They have lost to both ranked teams they have faced (Michigan, TCU), Boise State is ranked. Using my powers of deduction, I predict another loss to a ranked team for the Aztecs. They also lost to Wyoming at home (30-27) because of their inability to nail late FG's, AHAHAHAHAHAHA... oh wait...
Simply put Ronnie Hillman is San Diego State Football. Ronnie Hillman is human, and he is injured. He or any other Running Back from the Aztecs will have to face a Boise State defense that has been eating the run at times this year. They did well against TCU in that regard. With or without Hillman, I expect the Broncos to take away the run and make them pass the ball. Which might be playing with fire if you remember anything from last week.
I don't. I had a visit from Will Smith from Men In Black and he flashed that mind-erase-thingy on me. National Championship here we come! Hooray Arrogance!
Those of you bashing Dan Goodale will find solace in the fact that San Diego State's kicking game is quite possibly worse than ours.
Goodale is 3-5 on the year for a 60% FGP
San Diego State is 4-11 good for 36.4% FGP
Yes, we actually will have a decided advantage in Special Teams play this week. But for those still wondering;
San Diego State is 32-34 on PAT's
Dan Goodale? 44-50 on PAT's this year. What a bastard huh?
To put it all in perspective, Boise State ranks 91st nationally in Field Goal Percentage. San Diego State; 119th!
HAHA SUCK IT AZTECS!
Now a deviation from the regular rundown as I take the opportunity to shake a stick at Craig James, useless douchebag, and retard extraordinnaire. As seen here;
He had the audacity to rank Boise State 25th on his ballot after the loss to TCU. 25th! The guy's an idiot, this we know. So I took it upon myself to do the opposite, and I did the right thing and put Boise State at #1 in my weekly ballot on the OBNUG poll. Effectively keeping Boise State at #3 overall, YAY HOMERISM! The way I figure it, I'll continue as long as Craig James is still breathing. So you're welcome OBNUG, I WIN!
Onto the poll.