Welcome Obnuggers, to the Bowl Edition of the Mikrino Poll. A fantastic voyage of analysis, fun-making, and borderline humor that might get edited by someone other than me, because let's face it, I live for this stuff. Utah is a horrible state. No offense to any Obnuggers in Utah, but your state sucks golf balls through garden hoses. There really is nothing like personal attacks against entire states to lively up a Mikrino poll. Trust me, it's only going to get worser.
 Let's get right to it shall we. The Utes (which I think is short for Uteruses, and I understand why) have had their share of praise heaped on them in recent years. They walloped a grossly overrated and undeserving Pitt team in 2004 to become the first NAQ team to win a BCS Bowl, sadly, it was against a Big East team. And everybody knows that doesn't count. Then again in 2008 they made their way to another undefeated season and a Sugar Bowl matchup against an Alabama team that fell just short of the BCS Title Game. And much to their credit, they put the boots to the Tide in one of the better ass-handings I've ever seen an SEC team take. They didn't take it well, good on ya Uteruses! That Utah team was pretty darn good. And any Ute fans is quick to point that team out, as well as their No.2 finish in the final polls that year. That team is not this year's team( Ute..ruses!). No matter what any of those uteruses tell you, I'm right and they know it. YAY ME!   Check it out;
Team Schedule
Date
Opponent
Result
Game Time
Attendance
09/02/10
Pittsburgh
W 27-24
3:22
45,730
09/11/10
UNLV
W 38-10
3:00
45,102
09/18/10
@ New Mexico
W 56-14
3:19
23,940
09/25/10
San Jose St.
W 56-3
2:43
45,099
10/09/10
@ Iowa St.
W 68-27
3:11
43,195
10/16/10
@ Wyoming
W 30-6
2:44
20,014
10/23/10
Colorado St.
W 59-6
3:00
45,029
10/30/10
@ Air Force
W 28-23
3:12
37,211
11/06/10
3 TCU
L 7-47
2:58
46,522
11/13/10
@ Notre Dame
L 3-28
3:02
80,795
11/20/10
@ San Diego St.
W 38-34
3:10
34,951
11/27/10
Brigham Young
W 17-16
3:08
45,272
@ : Away, + : Neutral Site
Please look at the schedule above. Utah played basically no one all year until TCU came to town, then this happened;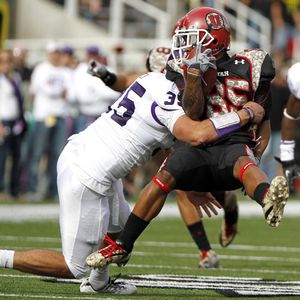 Ass-handings-a-plenty!
Then this happened;
 Damn, how many ass-handings can one team take? Apparently when you take two in a row the third one is inevitable.
Then this happened;
Utah narrowly escaped with the win against San Diego State. Sure the Aztecs are much improved, but the point is this; Utah lost two of the three real tests on their schedule this year. I'm not even sure Notre Dame qualifies as a "test". They also barely got out with wins over horrible looking Pitt and BYU. Being ranked 5th going into the game against TCU was laughable at best. At best, I said it, I stole yo momma's credit. Boise State lucks out here because by virtue of Utah's being overrated,  it now gives the Broncos a ranked opponent to crush in a pre-christmas bowl. You can bet when that happens, Mark May, Craig James, and the bunch will immediately say what I just said. Utah was overrated, they're not that good. It's a Catch-22 for Boise State. Fortunately this is a future member of the PAC-12 about to receive their own ass-handing. "Here is your ass. It is served well done. Is it to your specifications?"
TCU molested Utah at home. Boise State's defense is just shades away from TCU's in almost every category. Forget those last two outings. They were Letdown City. This is I'll Show You-opilis. Notre Dame tossed Utah around like dolls. Notre Dame is not good, and I hate dolls. San Diego State took Utah to the limit and narrowly lost. San Diego State is not good, and they're also NOT BOISE STATE. I'm guessing this game is going to be competitive about as long as the last time Boise State played Utah, 3 or 4 minutes. Screw you Utes fans! That's right... Boom!
In my opinion, Utah and TCU getting invites from BCS conferences was more about the BCS' survival than it was about the Frogs and Utes being BCS-caliber teams( Both would be routinely owned by Boise State). Both teams are in good markets with good recruiting and consistently win games. The MWC gaining AQ status was inevitable with Boise State joining the ranks. How do you stop that train? Take the conductors hostage. I realize I'm setting myself up for being called a conspiracy theorist, but with Jim Delany's recent candid remarks, and all the chatter against the BCS, it seems to me absorbing the sources of some of that contention looked like an easy fix if you want to keep the BCS rolling along. it will be years before the MWC or any other NAQ conference is able to mount that type of credibility again. How coincidental is it, that as soon as Boise State accepted the MWC invite, within mere days Utah and BYU were leaving? TCU was really left with no choice once the Big East came calling.
So for that reason more than any other, I hope the Broncos destroy Utah next Wednesday. Not only could they not wait it out another season or two, but as soon as they left they cancel the series with Boise State?I call <content edited>.
This will be edited. But that's okay, This has been posted online elsewhere. Here you go;
This is the last poll this year and likely until spring ball or beyond. Unless the Basketball team continues to hold my interest. So have fun choosing, have a Merry Christmas, and slap a Utah fan if you get the chance, they're at Block U.
The poll. Have fun, and may you be blessed this holiday season. Unless you're a Utah fan. In that case I wish you ass-handings-a-plenty!